Time:  Friday 25th November 2022 at 10:00 AM -11:00 AM CET. Click here for local timings
Format: Online via Zoom. The webinar is open to all, you will receive an invitation and zoom link in due time.
Registration: via this registration form.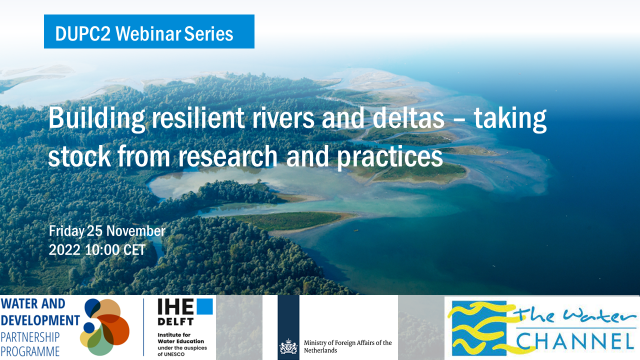 Background and Thematic Focus
Rivers and deltas provide some of the most essential resources for the population and socio-economic development: water resources, fertile soil, life-sustaining ecosystems, energy through hydropower, just to name a few. Currently delta areas host about 500 million people, with a projected steady increase to 750 million by 2050. At the same time, rivers and deltas system worldwide are experiencing unprecedented challenges. Climate change, sea level rise, urbanization, competing water uses across sectors and regions, etc. directly affect sustainability and resilience of millions of people. Given the importance and policy-relevance of knowledge and practices for resilience in river and deltas, the DUPC2 program has dedicated a multi-disciplinary research theme covering projects of diverse topics, geographical focuses and methodologies. This webinar aims to take stock of the research and practices initiated under the DUPC's theme on rivers and deltas. Drawing from findings and experiences, this webinar will address the focal question of what scientific insights, lessons and good practices could be leveraged for resilience building in river and delta systems.
The webinar features a selected set of DUPC2 projects, including:
Science communication for water diplomacy in the Brahmaputra Brahmaputra river basin. Dr. Anamika Barua, Indian Institute of Technology Guwahati.
River basin simulation for improved transboundary water management in the Nile: Case study of the Tekezze-Atbara sub-basin. Dr. Yasir Hageltom, Hydraulics Research Center Sudan.
Flood-based farming systems for enhancing livelihood resilience in the floodplain of upper Mekong delta. Speaker: Dr. Hong Quan Nguyen & Dr. Nguyen Van Kien, Vietnam national University.
Panel discussion & Q&A: convener Anna San Llorente i Capdevila, Programme Support Officer, Water and Development Partnership Programme Phase 3.