Chickpea success through WhatsApp
By Allah Bakhsh and Loes van der Pluijm
September 19, 2018
When you think of WhatsApp, you probably think of chatting with your friends or making arrangements. But did you know WhatsApp can also be used for agriculture? In this blog, we would like to share a success story of the Flood-Based Livelihoods Network in Pakistan that introduced and promoted chickpea cultivation in Balochistan through the use of WhatsApp as an instrument for communication between farmers and between farmers and experts.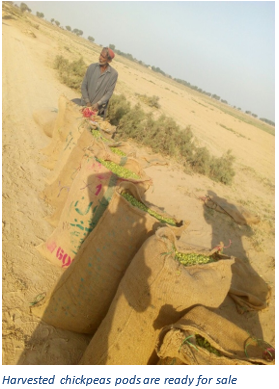 Chickpea cultivation is common in many spate irrigation areas of Pakistan. Each area has its own traditional practices. In Sindh, farmers cultivate Sathiara chickpea which ripens within 60 days. The green pods are usually plucked by women and sold in Hyderabad. In Karachi and Larkana the chickpeas are sold as fresh vegetables. In other areas, the chickpea is harvested after the plants dried under the sun and sold as chickpea grain. But in Balochistan, farmers in spate irrigation areas did not grow chickpeas. Why is this? Is the climate not suitable? Is there not enough irrigation water? Is there no market? No, the climate is very suitable for chickpea cultivation, there is enough spate water and there is a good market for it. So why did farmers not cultivate chickpea? Farmers are used to cultivating their traditional crops like sorghum and mung beans which they partly sell to the livestock herders nomads and did not see the commercial and domestic value of chickpea yet. So how did they start cultivating chickpea?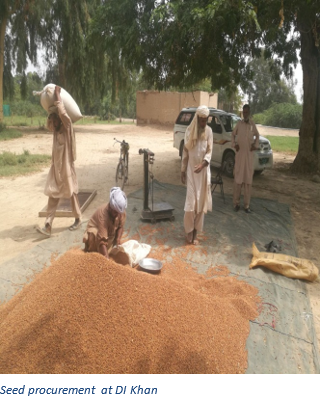 As part of the farmer to farmer knowledge sharing output of the project 'Testing Adaptation in Flood-Based Farming Systems', the flood-based livelihoods network (FBLN) Pakistan in collaboration with Strengthening Participatory Organization Pakistan (SPO) visited 4 regional farmer groups in Balochistan from Jan 2016 to April 2017. During these visits, interactive knowledge sharing discussions took place with farmers on different aspects of chickpea cultivation like crop production, seed application ratio, seasons of cultivation, disease controlling and local methods. On top of that, chickpea fields at the Kaura spate irrigation scheme in Punjab were visited together with 10 farmers from Bhag Balochistan and 15 farmers from Dera Ismail KPK in 2016 to learn from experiences and good practices on ground. The farmers of Balochistan were very enthusiastic about what they had seen and learned and decided to buy 2000kg of chickpeas from their own resources. started a trial cultivation of chickpea which was very successful. In 2017, they asked for more seeds of improved varieties and also other farmers started buying chickpeas from Sindh Market to grow at larger scale. Nowadays, many farmers in Balochistan grow chickpea successfully specially in Kachi Region. This also extended to Bolan, Jhal Magsi, Lehri and Bakhtiar Abad which are neighboring areas of the Kachi Region. So how is it possible that this chickpea cultivation has been picked up so quick and successfully by other farmers?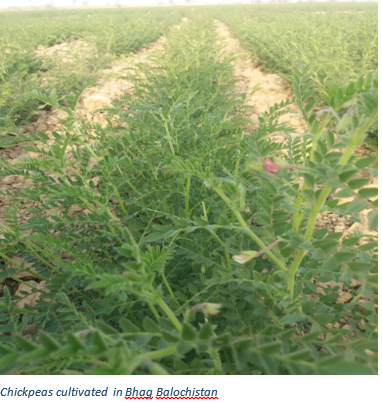 Via the use of WhatsApp! WhatsApp for farmers in Pakistan? Yes, Pakistan is a country where WhatsApp is used and even farmers in remote area have smart phones and access to internet. A WhatsApp group was made by FBLN Pakistan and SPO for the farmers in Balochistan to share their experiences. The farmers got instructions on how to use WhatsApp and share pictures and videos with clear messages with other farmers and took it up very quick. Farmers that already cultivated chickpea shared their experiences via pictures and videos on the WhatsApp group and farmers that were not yet introduced to chickpea cultivation could ask question and learn from their experiences. Also, experts from Dera Ismai were added to the group to give advice on the cultivation of chickpea and how to prevent possible issues e.g. pests. The WhatsApp group became very active and within a short period of time, many farmers were convinced to start cultivating chickpeas in Kachi Balochistan. Since the start of the WhatsApp group, the number of farmers joining the group and cultivating chickpea successfully has increased significantly. Last season (April-October 2018), 3000 acres of land in Balochistan have been cultivated with chickpeas. The farmers are satisfied and indicated they got very high yields, no pest attacks and got good returns. After taking enough chickpeas for home consumption and for planting the next season, farmers have enough chickpeas left to sell on the market for 3500Rs (about 30 USD) per kg which is more than they could get for the sorghum they used to cultivate which was sold for 1200Rs (about 10USD) per kg. They also indicated that during their cultivation, they were frequently using WhatsApp to stay in contact with other farmers by sharing their experiences and struggles/issues through pictures and videos.  During the last season the FBLN Pakistan also provided 800 kg of improved variety of chickpeas on cost sharing basis to Balochistan farmers.
This is a success story showing how sharing videos and pictures on WhatsApp can be used as an instrument to support farmer to farmer learning and get advice of experts on for example crop diseases.