by Kifle Woldearegay, Frank van Steenbergen and Mulugeta Berihu
July 08, 2021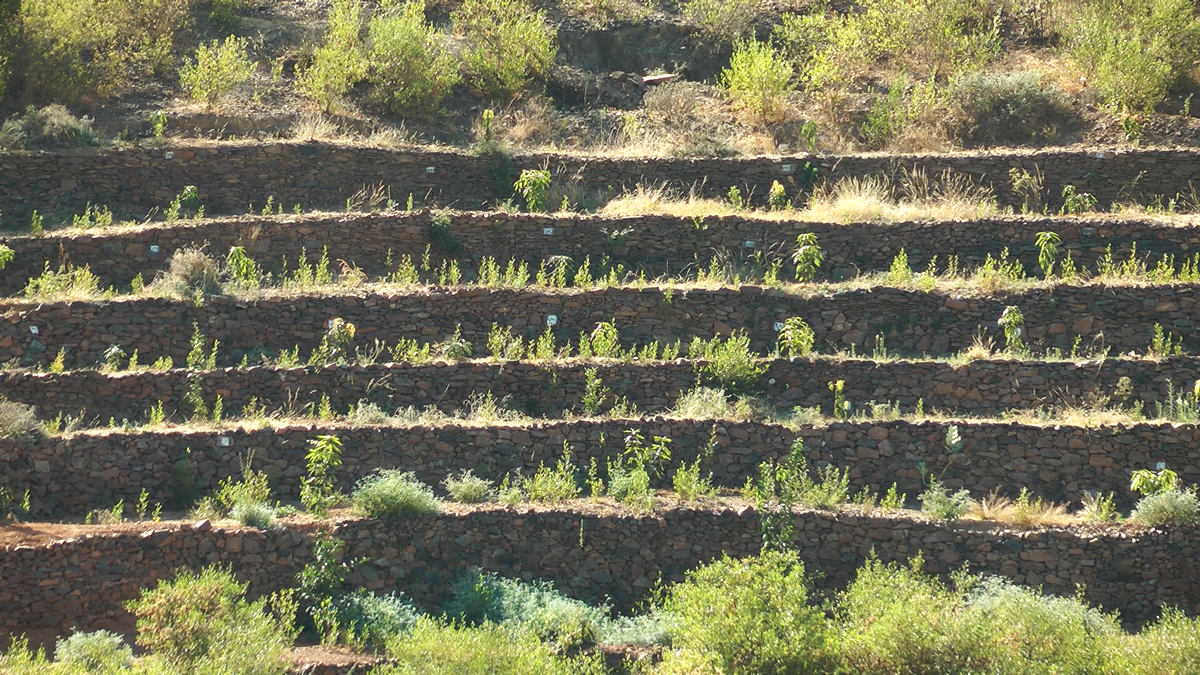 In the news for a cruel war being played out, Tigray in Northern Ethiopia has been the place where many good new land and water practices have been developed and tried out.
Even without the current dark period, the Tigray region has for long been considered as one of the most food insecure regions due to shortage of cultivable land, soil erosion, high rainfall variability (spatial and temporal), and poor land management practices. To reverse these problems different landscape restoration efforts have been implemented since the 1970's. Since around 1995, integrated soil and water conservation interventions were implemented with more focus to conserve soil and water in the landscapes. However, it was starting around the year 2000 that the approach, the scale, and techniques of the interventions have improved siginificantly: the focus changed into water harvesting (in-situ and ex-situ). With a wide range of technologies implemented from landscape level to farm level, there have been enormous improvements in soil moisture, water creation, (stream flow and groundwater recharge), erosion control, and enhancement in productivity. Tigray region has become a model and hope for better change to other regions of Africa.
Starting 2013, a new development has emerged in Tigray, Ethiopia: creating new cultivable land from hilly terrains through bench terrace development. During stakeholder technology selection workshop (organized at the end of 2012 by EU-funded WAHARA project in Wukro town of Tigray, Ethiopia), the workshop participants selected bench terraces with hillside cisterns as top priority of interventions. This was later given further impetus under the Climate Smart Integrated Watershed Project (supported by the Partners for Water programme of RVO).
Though bench terracing is traditionally known in limited areas of Tigray (mainly Erobe, as well as Konso in Southern Ethiopia), the technology has not evolved much in Ethiopia. The first bench terrace was constructed by the TBoARD in the year early 2013 in Zata watershed, Tigray, Ethiopia (Figure 1). Since then, the regional government has given top priority to create terraces in all parts of Tigray whereby the newly developed cultivable land is integrated with water sources and distributed to landless youth (women and men) for multi-level crops: fruits and vegetables (e.g. Figure 2).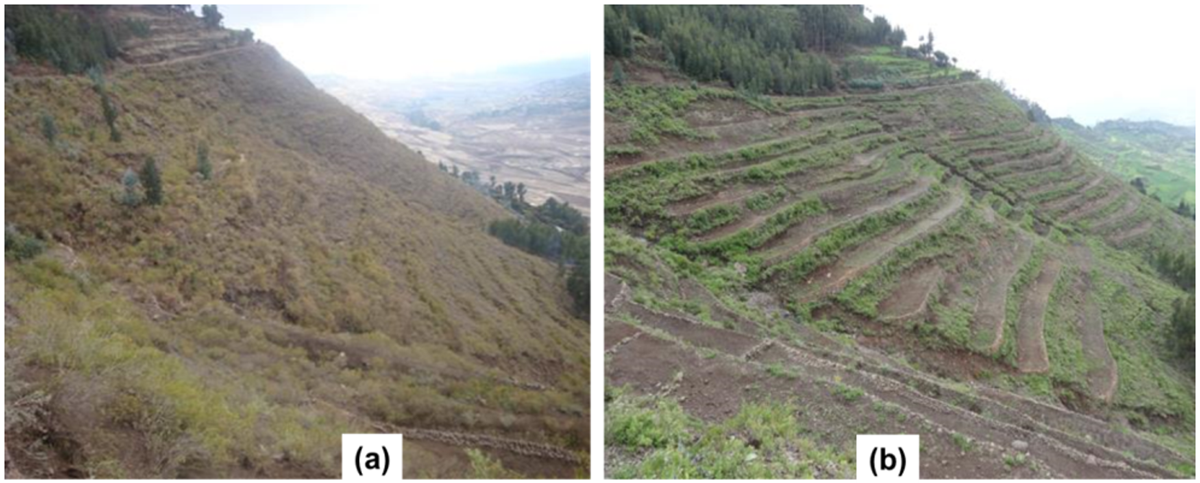 The experiences in Tigray were then shared with other regions where bench terracing was not known before. Mekelle University continued documenting the performances of this technology. Results of the monitoring show the following:
Because of their high cost of construction, bench terraces need to be integrated with perennial water sources so that intensive farming can be practiced (e.g. growing high value crops, implementing off-season irrigation, growing multi-level crops like integrating permanent crops with annual ones) for better income.
Evaluations of bench terraces in different geohydrological settings show that the most promising sites are those implemented in hilly areas underlain by weathered volcanic rocks and metamorphic rocks (metavolcanics and metasediments). Bench terraces underlain by sandstones and limestones are hampered by the slope stability of the bench and water stress because of the non-cohesive and high permeability nature of the underlying soils/rocks.
One of the challenges with bench terraces is fertility of soil. This is because new cultivable land is created with relatively poor soil quality. This demands soil improvement (e.g. mulching, etc).
Since bench terraces are constructed on hilly areas, the hydraulic gradient is high for surface and sub-surface flow. Moreover, because of the slope, excessive infiltration (groundwater recharge) could lead to slope stability problems. It is therefore critical to balance infiltration (recharge) with drainage.
In most sites in Tigray, bench terraces are given to a group of unemployed youth (male and female) with a land size less than 0.2ha/person. – see also: https://thewaterchannel.tv/thewaterblog/land-to-women-and-landless-youth/). This is driven by the need to attract youth to the activity, to make sure that they are able to generate a decent income for themselves. Such youth need requisite support, especially in developing a clear business plan.
With over 60% of the Ethiopian landmass being hilly/mountainous, bench terraces have a great potential for generating income in rehabilitated landscapes. Considering the limited land size which is created and THE high cost of construction and maintenance, land users need to focus on high value crops and implement soil improvement and proper water managements.