Rocks: The blessing in disguise
Posted by Celestine Kilongosi
August 31, 2018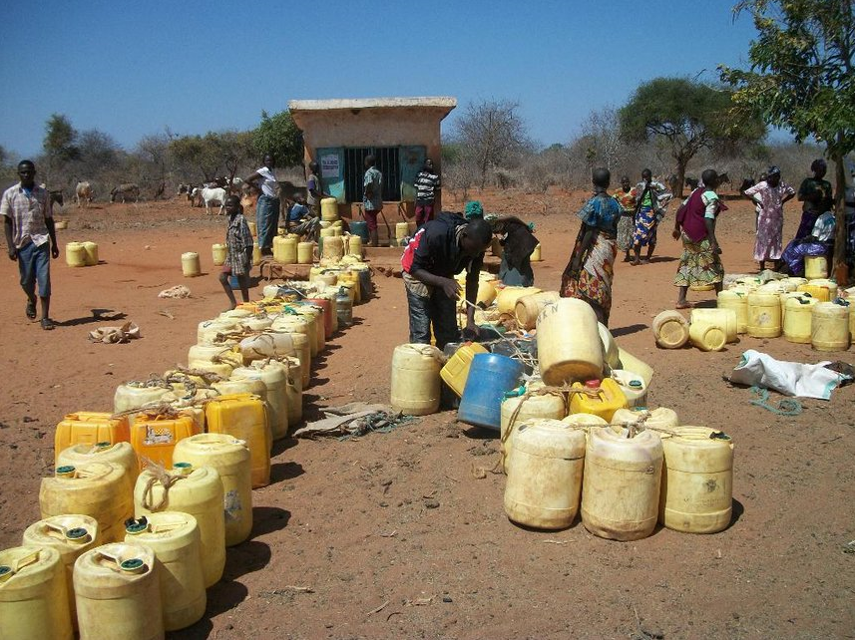 Photo by Musembi Nzengu
Queuing for long hours to get water is not unusual in Mutomo subcounty which is a semi-arid area with a population of roughly 17,000 people. Most of them are from the Kamba community. Says Kisilu Muasya, one of the residents: "Life is not and has never been easy here. The rains are very unpredictable and many are the times we sleep without food. I received some training on tree planting but everyone took me for a crazy man when I told them to plant trees so we can change our environment and attract more rain. The planted trees soon dried up and we still are struggling to survive. Maybe we should be trained on how to harvest even the little that falls from the sky. Isn't water a human right like air?"
Let's be honest, rain water harvesting can sound like a bit of an absurd concept in Mutomo. There's not much rainfall in the area but scorching sun. However, as they say, poverty is the mother of invention. The residents of Mutomo area are now wiser and have adopted new ways for their survival as witnessed during a Water harvesting in Kenya hosted by the Rain Foundation. With the help of Rain Foundation and SASOL, they have shaped the several rock catchments in the area to capture as much rainwater as possible. Though this has not fully addressed the water scarcity challenge, there's some light at the end of the tunnel. The idea is to collect any drop of water that falls on the rocks since with enough drops we'll fill the bucket.
These rock catchments are easy to construct since they do not occupy any farmland but only rocks that are nobody's property. However, the individual owners of the land must be consulted first if it is in a farmland. They must however be fitted with the gutters to channel the water to the reservoir.
Since it's the woman's responsibility to take care of her family, several women have started self-help groups (locally called mwethya) to come up with better ways to harvest water and in turn use it for agriculture for improved livelihoods. The Mwende Self-Help Group was formed by a group of 25 women at Kwa Vonza that constructed a farm pond of size 16 x 10 x 2.5m. New members can join the group but only after vetting by the existing group members. After being accepted into the group, the new members must pay for the costs that the group has incurred in the past.
This rock-cut pond (above) is fed by water harvested from Machakos-Kitui road via a canal. The water harvested in this pond is mainly used for agriculture and tree planting. Daily irrigation schedules are in place on how the trees can be irrigated. The trees are sold and in turn provide income.

To ensure water security, other rock catchments need to be shaped to harvest more water.  Also, the residents should be considerably trained in the reuse of water. This water can be used for agriculture and help improve the people's livelihoods in Mutomo area.
Here is a short video that lays out the principles behind harvesting water off rock outcrops.
{jcomments on}