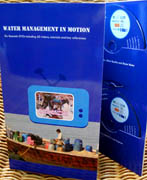 Since TheWaterChannel was launched in 2009, we have been receiving frequent requests that some of the videos be made available on discs. Most of this demand came from educational institutions in developing countries, where internet connectivity is often slow and limited.
We then carried out among members of Cap-Net, the international network for capacity building in IWRM, a survey to assess the exact nature and extent of this demand. Based on the findings, we recently developed 'Water Management in Motion,' a set of 6 DVDs containing videos and learning material covering important issues under 6 themes: IWRM; Climate Change; Water Pollution, Water Quality and Waste Water; Rainwater Harvesting, Recharge, Retention and Reuse; Groundwater Management and Water, Sanitation and Hygiene.  
The package can be used for educational and training purposes, conference screening, capacity building activities, and as advocacy tool. It will be distributed free of cost among individuals and institutions engaged in water-related education.
We thank all the producers who contributed their videos. This project was supported by Cap-Net, GWP, IFAD, NUFFIC, RAIN, UNESCO-IHE and WGF.
Unfortunately, we ran out of copies, but if you are interested please send an email to us at info@thewaterchannel.tv and we will put you on the list for a new edition.
If you have already received and used the package, please share your feedback through the evaluation below