by Saroj Yakami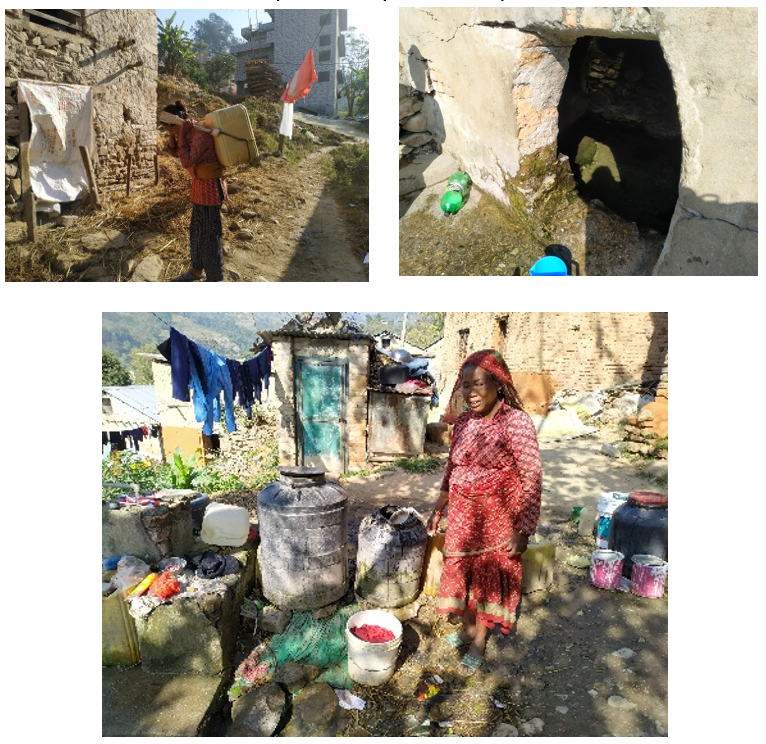 Maili, 65, lives with her husband. Her two daughters are married and are live far from where she is lives. Her son lives in a home of his own.
Even at her age, Maili does all household chores, including all the laundry. She washes clothes once every week or two. Water is a big issue– she cannot go to the communal water point to collect water. She has a tap at home, but the water supply is not reliable or adequate. Nevertheless, she has been able to save some of the tap water every day–  she does not need a lot as she lives only with her husband. Maili does the washing standing up, taking short rests during the process. Washing clothes by sitting is next to impossible. She said washing clothes is very difficult and challenging.
Get to know Sangita, mother of a 6-month old baby girl, from Danuwar village in Godawari Municipality. She is responsible for washing all her family members' clothes. She must, of course, wash her baby's clothes everyday. She washes the rest once a week. It takes at least an entire hour to make a trip to the public waterspout (the only source of water). She takes two jerry cans of 20 liters each, carrying them from her head using a head strap known as 'namlo.' Sometimes she takes a doko (bamboo woven basket) to carry the water. She says that washing is very hectic and hard work. But it is a mandatory task. Saturday is all about doing laundry and nothing else.
33-year old Ranjita Yadav lives in Pandit Tole of Barju Rural Municipality with her family of 7. She is responsible for washing all the clothes. She does laundry every day, for 10 hours on average (taking into account only washing, and not activities like collecting clothes, putting them out to dry, folding and putting them back). Laundry consumes most of her time and needs lot of effort to accomplish. Other factors add to the tedium– for example, washing menstrual clothes are prohibited when people are around, they need to be washed using separate shops, etc. Doing laundry is already hard and such customs multiply the difficulties involved.
In rural Nepal, women are responsible for most of the household chores like washing clothes, cooking, cleaning, looking after kids. Additionally, they also share the work to be done on the farm. Laundry, which is considered exclusively women's responsibility, is done manually. In rural areas, girls start washing their families' clothes starting age 12 or 13. On average, a woman spends 10-15 hours every week washing clothes. It is done the way it has been done for ages, backbreaking and time-consuming, without the use of even basic tools – like a washboard, brush or a plunger.