Posted by Karim Nawaz
January 25, 2016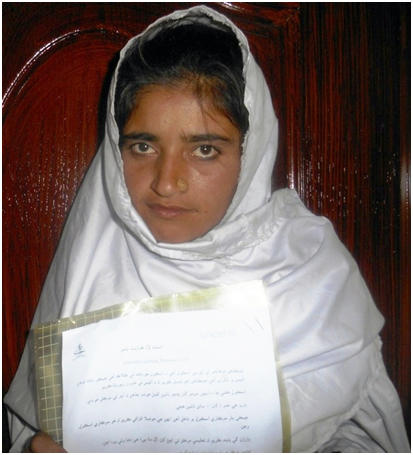 Miss Bakhtawar Mallah is a 19 year old girl from the fishing community from Badin district, Sindh in Pakistan. She dropped out of school in her 4th grade, but continued her education privately using limited resources of her own.
She is now closely involved with the Pakistan Fisher Folk Forum (PFF) – an organization that advocates for the plight of one of the most marginalized and forgotten indigenous communities in Pakistan.  She took active part in protest rallies issues faced by the fishing community such as violation of human rights. According to her, before her association with PFF she was not aware of the countless problems faced by the community.  Fisherfolk were not even aware of their own rights– right to fishing, access to fishing grounds, off-season fishing, the role of middle men, the fishing mafia, and unjust rules preventing them from accessing aquatic resources.
As a young girl, Bakhtawar and her family faced many challenges when she decided to take part in awareness raising programs, on topics such as indigenous community rights to fishing, use of land, and other associated resources. She was very confident, and considered that if the fisherfolk were in the right, they regain their rights and achieve fundamental goals which are their lifeline and cultural heritage. As a child she had heard stories glorifying fisherfolk from her grandmother, mother and other elders; on dark and cozy nights in a remote coastal village. She knew that her forefathers had a rich knowledge of marine resources, environment and a sense of community. They considered themselves children of sea and water bodies.  From the smell of the sea breeze they could even discern what would happen next.
From her own childhood experience, Bakhtawar understood the harsh reality that these resources were no longer accessible to her community. Recalling her childhood memories she always wondered whether this loss was irreversible. But her young mind could not come up with an answer. Strongly bound by the caste system, she was on the one hand labeled a fisherwoman in daily socio-cultural life. However, on the other hand, she hardly knew anything about fishing since this profession had been snatched from her family and community. She felt like an outcast and did not know why she was called a fisherwoman if her family was not involved in fishing. She knew she couldn't cross the caste system and had to live with it the way it was. It was a turning point in her life when she decided to become a real fisherwoman rather than merely be labeled one.  
Bakhtawar took part in a hunger strike against the injustice meted out to her community. She was involved in a long march of hundreds of kilometers, to spread awareness about saving rivers and lakes.   With this objective in mind she travelled for 14 days to various cities, often spending nights in the open. Since then, Bakhtawar has also protested in favor of releasing foreign fishermen from Pakistani jails. She has ensured that women in her community and local area received their national identity cards and were active in voting during elections enabling democratic values to flourish in the country.  It is her belief that someone needs to come forward and be a role model for others if fellow community members desire real change.   
A training program under NOVIB gave her confidence and the realization that education and capacity building play a very important role. She decided to continue her education and involve herself in this sector.  A PFF special project to enhance education for poor people gave her the opportunity to become a teacher. She enjoys her job as teacher and loves to spread education among children of her own community in the area. To go from student to teacher she has had to overcome an ocean of difficulties – most importantly her age, gender and the poor socio-economic background of her family and tribe. She is now a leading activist and role model for hundreds of girls from oppressed groups in the coastal region and within Sindh province. She is confident and claims that her self-esteem has been boosted through continuous training, coaching and deep involvement in the problems faced by her community.
As an active member of PFF she has to face challenges of being under personal attacks invoking 'shame' and 'honor' issues. Her moving out of her home and taking part in trainings; rallies against the dominant class of contractors, local leaders and government officials; interaction with men; and raising her voice against cruelty and injustice….  were not easily accepted by the dominant classes. Until now nothing has been able to stop her from moving ever forward on the path she has chosen. Every difficulty has only motivated her to continue the struggle; to learn more to equip herself to face the problems head on.
{jcomments on}