Posted by Dr. Karim Nawaz, July 23rd 2014
Mr. Junaid is a 60 year old resident of Ibrahim Haidri, a historical fishing village on the Karachi coast. His family has deep roots in this village and among the fishing community. The immediate family consists of his wife, two sons and two unmarried daughters. The family of six live together in one house. He is a member of the Pakistan Fisherfolk Forum (PFF).
Pakistan's Fishing community has lost their traditional fishing rights and fishing has been taken over by contractors. As a result, these fishing communities only had the option of serving as laborers for these contractors. They were reduced to the situation in which they were only paid a minimum for their labor in a profession in which they previously enjoyed sole ownership. The problem was not confined to deprivation of fishing rights, but a series of chain reactions to the problem began. Over time they found themselves alienated from the whole situation and every day they had face the toughest of obstacles: they had no control over illegal and indiscriminate cutting of mangroves and the use of illegal fishing nets which sweep the ocean floor, catching even the smallest fish and marine life; they faced threats from contractors and coastal lands were sold to the construction development mafia. In this situation the fishing communities became bonded labor to fishing contractors and lost their communal power and freedom as well as their fishing rights.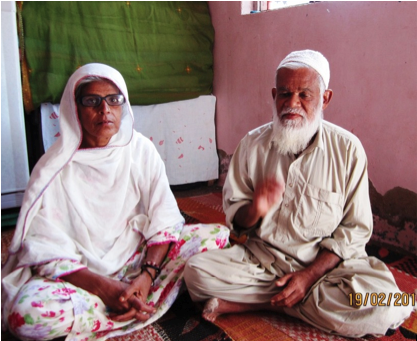 Mr. Junaid and his family received a tremendous relief from the vicious circle of poverty when the contract system was officially abolished and replaced by a license system in 2011. In 2004 the government announced moves to abolish the contract system but it was only actually eventually implemented in 2011 after active protests, lobbying, advocacy and joint efforts by the PFF and other civil society groups. Now individual fishermen and women can obtain an annual license from the provincial fisheries department and are thereby free from the contractor's yoke. Anybody other than members of the fishing community, who obtains an illegal license, can be challenged through court action by the PFF and the licensing authority.
NOVIB project contributed a lot by raising awareness, community rights campaigns, organizing press conferences, media campaigns, taking part in protest rallies against the contract system and other unfair practices as mentioned above. The training programs organized under the project have helped communities to understand the causes and its effects on fishing growth, harvesting and marketing in a holistic way. Through awareness programs Junaid and other members learnt that pollution generated by fishing waste causes fish to move to the deep sea zone thereby requiring more time and energy to catch fish.
Junaid has been an active member of PFF, but his health is deteriorating and he needs continuous treatment. His wife Hamida is also an active member of PFF. One of his daughters is now employed in a prawn processing unit. He is no longer active in fishing but remains energetically involved in strong advocacy, knowledge management and awareness raising programs. He says day by day PFF membership is increasing for women – a big change of which he is proud. He and his family are enthusiastic viewers of the National Geographic, Discovery, and Animal Planet channels from which they learn a lot about marine life. Junaid claims that due to knowledge gained from various sources (mainly electronic media) he was the first to introduce marketing of jelly fish in Pakistan. According to local traditions and know-how, jelly fish had no use in that region. Junaid learnt of its usefulness, processing and preserving methods and currently earns extra income by marketing this product. The training he received about fishing rights, basic human rights, advocacy, how to participate in rallies, addressing press conferences, talking and negotiating with officials related to fishing sector, is also discussed with fellow fisher community members around a cup of tea in local tea shops where they have daily interaction. He also actively takes part in drama and theatre programs to raise awareness about community rights, environmental and social issues. His knowledge, participation and involvement have contributed to building his profile as a community activist and enhanced his respect across the board – within his community and by government officials and media.
According to him, harassment of fishermen by law enforcement agencies has decreased due to recognition of fishermen's rights and stake in fishing under license system. PFF membership has gained recognition and respect in community, law enforcement agencies and related ministries. Continuous interaction with police and law enforcement agencies during demonstrations and rallies has resulted in a better acquaintance with them. Junaid now helps fishermen and police in certain cases to clarify the situation when fishermen are harassed.
Now fishermen directly market their catch to wholesale dealers and processing units. Junaid is proud that the sea food industry puts the logo of Ibrahim Haideri on its internationally marketed products. Further it has improved household income as contractors no longer take the major share. Through PFF support, his daughter now has a job in the prawn processing unit and has her own independent income. Over the last two years his increased income, primarily through fishing, has allowed him to purchase a fridge and construct a water storage tank for his house providing his family with reliable storage of water and perishable food.