by Getanew  Tesfaw, Assefa Kumsa, Frank van Steenbergen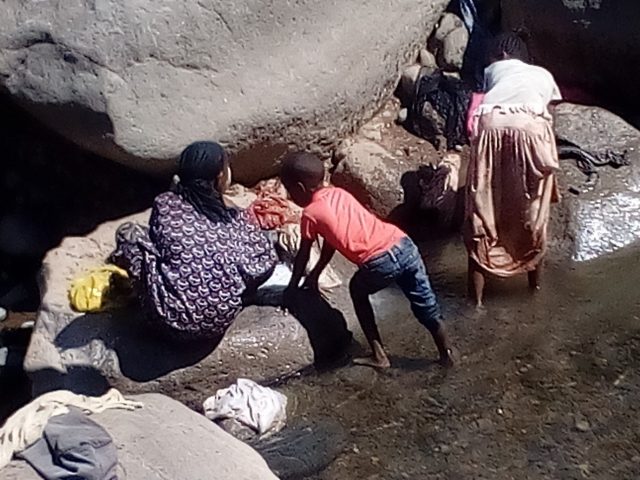 Doing laundry in rural Africa or Asia is hard work, taking many women almost ten to fifteen hours in the week.  It is also not without danger, as these four stories from Ethiopia show.  We interviewed fifteen women and in this small sample many had a traumatic story to tell.
Her name is Zeyneba. She lives in Arsi Woreda. She is the only one responsible for washing all family clothes. In her village there is no water reservoir. She collects all her family laundry and then goes to the Ourso River once every three-four days. This is a three hours journey on foot. One day – two years ago – she was looking for a friend to go together to do the washing, but there was no one to  be found. She started the long walk, carrying the  clothes on her back. She reached the river and washed all the clothes. She then started to go back home, carrying the entire load. . However she got very tired and on the way slipped and fell on a rock. In this instance, she got badly injured,  whilst four months pregnant. She had high blood pressure and was in severe pain. Now, she is afraid to get pregnant again.
She  is Nureti. She takes care of her baby sister. When her sister was just born, she had to look after her every day and cook for her. The clothes were soiled and had blood on them. They had to be urgently washed. She had no choice but to ask a fifteen year old young girl from the neighborhood to go to the river and wash the  clothes. Six hours later, the girl was not yet back and everyone was worried. They then heard the bad news: the girl was molested by two bandits. The young girl left school and moved to another area. She does not know where the girl lives now.
She is Shuga, mother of two. Like all other women,  she collects the family laundry and does the washing every three or four days. This takes up most of her day. One day she went to the river on her own, having loaded all the clothes on her donkey. She reached the river, did all the laundry and then journeyed back home. On the way, she had an unexpected and fearful encounter. In the middle of the  forest the road was blovked by a hyena. She shouted, but was all alone. Then the hyena chased the donkey, killed it and ate it. That day Shuga lost all her clothes and the donkey. She never forgot that day.
She is Yeshiwork. This is the story of her childhood friend Alemitu. One day they went to river to wash clothes. Whilst doing that, Alemitu slipped and was badly injured. She was unable to walk after this and in the end had to get an artificial leg.