By Pratik Ranjan
In the village of Dhamnatad, Gola, where the sun's golden rays gently kiss the sprawling fields, Rekha Devi smiles and stands tall as a farmer. However, her identity goes beyond being a farmer; She says, I'm a proud shareholder and broad member of our esteemed Mannonati Mahila Farmer Producer Company Limited (MMFPC). While walking and showing us her lush field, she takes us through her journey, sharing her emotions and the pride she felt from being a part of this transformative endeavor.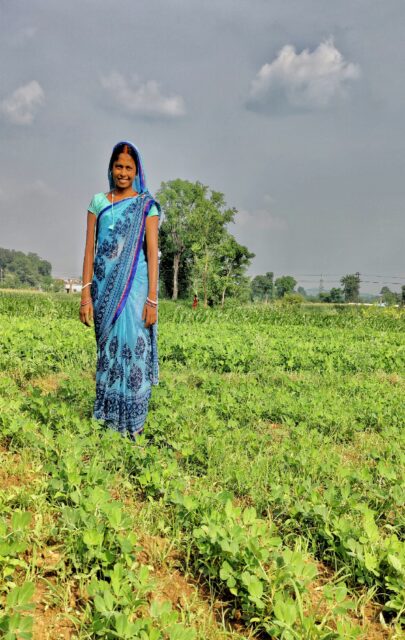 Born into a family whose primary income is agriculture, Rekha grew and nurtured crops like potatoes, tomatoes, ladies' fingers, and groundnut across her 2 acres of land, sowing her passion alongside every seed she planted. Her life significantly turned in 2016 when she tied the knot and stepped into Dhamnatad village. It was here that the desire to work for the betterment of society began to bloom, which she never got an opportunity to do during her time at her parent's home. However, post-marriage, she got support from her in-laws, and that was the spark that ignited her aspirations.
That very year she marked her entry into a Self Help Group (SHG), where she found her stride in attending the Village Organisation (VO) Meetings regularly. During one such meeting, she had the chance to meet Sakriya Didi, to whom she expressed her deep passion. Recognizing her keen dedication, Sakriya Didi helped her become a Master Book Keeper (MBK) of their VO, a role Rekha embraced with immense pride. This was the first step on her journey toward making a meaningful impact on her community.
For the next five years, from 2016 to 2021, Rekha dedicated herself to her role as MBK. She witnessed the challenges her community faced while procuring agricultural inputs, training, and marketing their produce. Motivated to bring positive change, she took another step in 2021 by joining the newly established Farmer Producer Company (FPC). Having already worked in a lead role for the VO, her community wholeheartedly supported her decision to become a Board Member, another milestone achieved in her passionate pursuit of working for the community while leading from the front.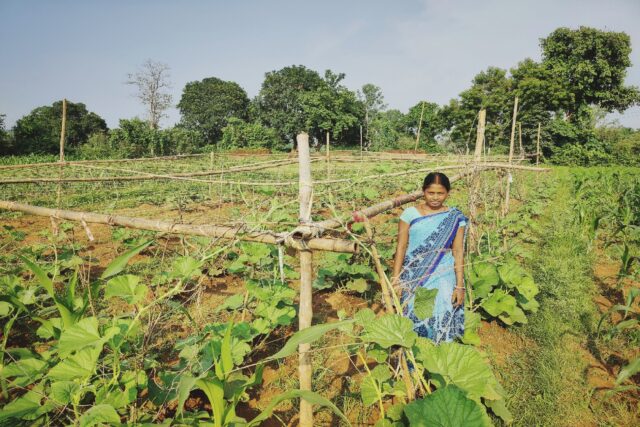 Being a leader, Rekha Devi mobilized over 50 farmers to join the FPC, passionately explaining the benefits it would bring in terms of input and output marketing. Her dedication to the betterment of the village over the last five years had earned the trust of fellow farmers, making the mobilization process relatively more straightforward. In the same year, Rekha took on the responsibility of procuring green peas and beans seeds at Rs. 160 per kg for the families who needed them.
However, fate dealt her a challenging blow when none of the seeds she purchased germinated. It was a setback that tested her resilience and determination. When she brought the issue to the attention of the PRADAN staff, they urged her to lead from the front, considering her position as a Board Member. Undeterred, Rekha took charge of the situation, demonstrating authentic leadership. With her firm determination, she then requested the seed shop owner to visit all the farms where the seeds were planted and thoroughly investigate the reason for the failure. Initially, the shop owner attributed the issue to farmer error after visiting just one field. But Rekha stood her ground, firmly stating that the fault lies in the seeds and not the farmers' effort.
As a leader, Rekha, while talking to the shop owner, knew she was standing up for her fellow farmers and demanding accountability. While taking him to all the fields, the shop owner realized the fault was in the seeds and agreed to provide better quality seeds for Rs. 200 per kg free of cost.
The success of securing higher quality seeds, and that too without any additional cost, filled Rekha with an overwhelming sense of accomplishment. It was an experience like no other, a moment she proudly cherishes as a testament to her dedication and leadership. For Rekha, this was more than just a personal achievement; it was a victory for her entire community.
From that day onwards, Rekha Didi is no longer known by her name; she proudly says that people from her village and neighboring villages call her "Board Didi." Everyone in her village knows her because of her dedication and leadership qualities. However, the most significant achievement she cherishes is the transformation of her identity. In 2016, she was known by her husband's name, but in 2023, the scenario has beautifully reversed, and her husband is now known by her name. This newfound recognition symbolizes the empowerment she has gained through her involvement in the Mannonati Mahila Farmer Producer Company (MMFPC) as a shareholder and board member.
All the challenging and beautiful moments have led Rekha to realize that genuine pride lies in selflessly serving her community, leading with conviction, and securing a better future for every farmer she represents. Her journey has been immense growth, resilience, and unwavering dedication to her fellow farmers. Rekha's experiences exemplify the power of taking pride in one's work, the strength of collective action, and the remarkable impact that can be achieved through passionate leadership.