Here is picture from Basurabad, Polder 29, coastal Bangladesh. There is much to see in the picture.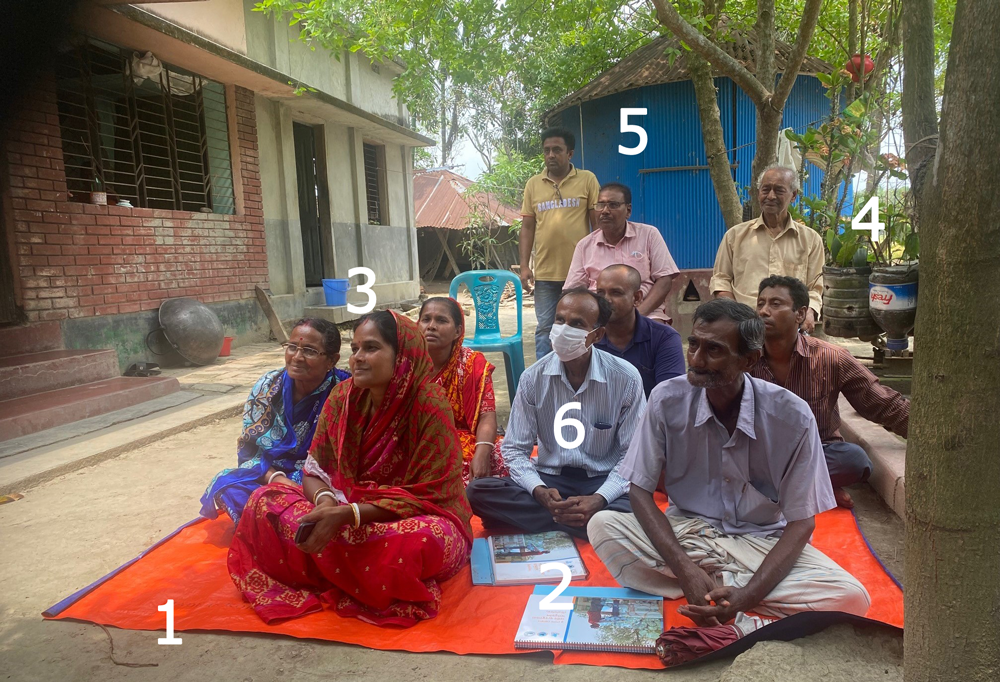 First (1) the people in the meeting – members of the Water Management Group that takes care of the canals, drains, and water storage structures; and operates the sluice gates in the polder. This is a transition – earlier these sluices were operated by government staff but this was costly and unreliable. Sluices are the valves in polder management: when they open they drain water out of a polder or, especially during high tide, they let river water in for irrigation. (When the river water is brackish or saline it should be excluded at any cost). The water management group now has its own sluice operator providing the necessary flexibility.
One also sees the  pictorial guides on operating the sluices but also managing water within the polder areas (2). There is much to gain in this respect. Opening and closing sluices – preferably in good conditions – is essential for water management inside the polder, but there is much more to be done in in polder water management, such as:
creating storage by deepening the drainage canals or creating in-field ponds;
removing water logging (which often results from rural road construction) by making culverts;
improving flood preparedness (by creating elevated places with material excavated from silted up drains);
managing water levels in the rice field (especially where more demanding high-yielding varieties are grown);
ensuring good conditions for fishery by ensuring sufficient water depth in fishery grounds;
and controlling pests and diseases with water management – in particular draining and flooding fields.
There is much to do and many interests to balance.
The Water Management Group has women and men – in recent years women have gained the confidence to be part of such public organizations and they play strong roles –such as in the Polder 29 Water Management Group – as is obvious from the body language and the position (3).
There is much attention to move to more regenerative agriculture. Agroforestry is popular: in the pots on tree one can see the seedling of new fruit trees (4). In the background there is a hugely improved grain storage, so as to reduce the impact of pests and rodents (5). The storage is carefully operated. Care is taken not to touch the grains with hands – and special spoons are used. There is more in regenerative agriculture – the owners of the house is making vermicompost. He prefers it strongly over synthetic fertilizer that has made the soil hard and crummy.
The area has been doing well, just as many  polders in coastal Bangladesh where crop intensity has gone up by 15-20% along with yields. Productive fishery is on the rise as well. One of the members of the group is an artist (6) – sign of a vibrant local economy able to support such beautiful professions. Then there is the improvement of houses, transport and access to education.