by  Frank van Steenbergen, Kifle Woldearegay, Mekdelawit Deribe and Kebede Manjur, Theophilius Kioko, and Abraham Abhishek
August 21, 2020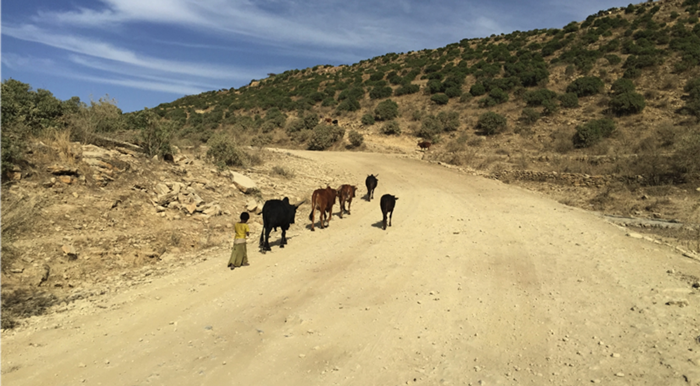 Rural transport is the fly-wheel of local economies. In particular, it is the intermediate means of transport (IMTs) – the motorbikes and three-wheeler transport vans – that circulate goods and services. They also improve access to vital services, schools, health centre, government offices. On top that rural transport creates millions of jobs.
For instance, in Ethiopia, in a single cost-free move, 500,000 jobs can be created; the marketing of rural products can be improved; and many people can gain better access to health and other services. What this needs is improvement in availability of motorbikes and removal of all restrictions.
In neighbouring countries such as Kenya, Tanzania or Uganda the use of motorbikes made a major change. In Ethiopia this is lagging behind. Many rural roads are empty and have no transport to speak of. In between buses and trucks and people walking along the road, there is no intermediate means of transport. The exception are the three wheeler Bajaj vans. Because of their low wheel axle they are inappropriate for rural Ethiopian roads: unpaved, often steep, and sometimes weathered. Furthermore, the costs of bajaj are prohibitive due to high taxes and duties.
Experience from the region
Promoting motorbikes on rural roads and in small towns would make a huge difference, as shown by experience from other countries:
In Tanzania the number of motorcycles has increased from 2000 in 2003 to more than 800,000 in 2014 after restriction on importing motorbikes were lifted (Starkey, 2016). It is estimated that in a country of 56 Million, this has created over 500,000 jobs for young men operating motorbike taxis.
 In Uganda the motorbike business has expanded so much that it may now be the second largest source of employment after agriculture. 7% of Uganda's population depends on this industry. Majority of these are men between the ages of 25-29 years (Turyahikayo & Ayesigye, 2017)
Motorcycle taxis contribute to more than 75% of annual passenger transport and small freight on rural roads in Ghana, Malawi, Mozambique, Sierra Leone (Starkey, 2016, Unescap, 2005). On a rural road surveyed in Cameroon, 82% of passenger movements a year were on motorcycles, as well as 74% of the produce and goods going to and from markets (Starkey & Hine, 2014)
Motorcycles taxis are profitable to operate and profitable to lease out, due to low capital costs, low operating costs, unfulfilled rural transport demand and informal private-sector systems for the leasing motorcycles for a daily fee (Unescap, 2005)
Babinard and Roberts (2006) summarized studies from around the world to analyze how poor access was a major cause of prenatal mortality, with an estimated 75% of mortality resulting from inadequate transport to access basic health facilities and/or transport for referrals to hospitals.
Research in Liberia suggests that more than 75% of people who come to a health clinic are brought there on a motorbike.
 Modelling longitudinal household data from 15 villages in Ethiopia, it was found that improved access (all-season, motorable rural roads) reduced poverty by 6.9 percentage points and increased consumption growth by 16.3 percentage points.
This is hence a strong plea to promote intermediate means of transport, in particular the use of motorbikes on the rural and small town roads of Ethiopia. This should be both two-wheelers and motor-bike vans, as developed in many countries. Motorbikes vans are particularly appropriate for moving medium-size quantities of commodities.
The development of an intermediate motorbike sector in Ethiopia should also be accompanied by investment in the so-called first mile roads– the paths and trails that connect to the feeder roads. It is believed that the development of such smaller tracks and better motorbike transport will also go a long way towards better safety for women, and reduced sexual harassment along small tracks.
How motorbike taxis are organized in Kenya: an inspiration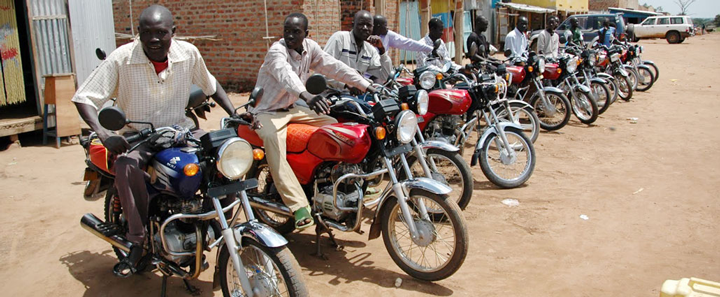 There is much apprehension in Ethiopia on the feasibility of having more intermediate means of transport, in particular with regards to the security and safety. Experience from elsewhere can remove these worries. Motorbikes are ubiquitous in Kenya, Uganda and Tanzania. In much of East Africa they are called boda-boda. The word is derived from the phrase 'border to border.' (It is believed that motorbike taxis originated from transport business at the border of Kenya and Uganda).
Boda-boda motorbikes have become a common means to transport people and their light luggage from one point to the other. In rural areas they are popular since the roads and paths are in poor condition, steep, and narrow; but can still be navigated with a motorbike. The distances that people used to walk were long, but motorbikes are now able to go even into hilly terrain. In towns, motorbike taxis can navigate around traffic congestions. Boda-bodas are also popular among city dwellers who are in a rush.
In East African countries the boda-bodas have created a crucial economic sector. They have helped to move people and goods from one point to another, which has created job opportunities for male youth. The fares charged are affordable to most of the customers: another factor which makes them popular.
How did boda-bodas rise?
In the 1990's motorbikes were introduced which had capacities of 50-150cc. The prices of the motorbikes were high due to the taxes levied on them. During President Kibaki's first term (2002-2007) he removed and reduced taxes and levies on motorbikes. From then onwards, the prices were affordable to many people and motorbikes became popular.
How many motorbikes are there in Kenya?
In 2007, an estimated 100,000 motorbikes were registered. In September 2016, the number reached over 700,000 and the number is still growing. Probably 450,000 of the motor-bikes are used as motorbike taxis. Since a boda-boda is often used by more than one rider, the number of driver jobs created is even higher. By now there are 21 assemblers in Kenya. Furthermore, there is considerable employment from repair shops and driving schools.
How is it organized (through companies /cooperatives)?
Boda-boda are owned by individuals who are either the drivers or individuals who rent out the motorbikes. The proportion is approximately 50:50. If rented, a rider pays approximately 3 USD per day to the owners. There are cases where people jointly invest in a company that rents out motorbikes to drivers on a daily basis.
What does it cost to start a motorbike taxi business?
The cost of purchasing a motorbike varies with the brand and the Cubic Capacity. The ones commonly used have a capacity of 150cc which retail at around 1000 USD. There are brands which are cheaper especially those from China, like Skygo and Jiachin. Those going for slightly above 1000 USD are Indian brands like Bajaj and Hero. Other than the cost of the motorbike itself, a buyer has to at least have third party insurance which costs between 30-50 USD.
Can one get loans?
Banks and lending associations are at the frontline of lending money for purchase of motorbikes. It costs less to buy directly from the assemblers' outlet; as that slices off the bank's profit and interest rates. Riders can also get loans through SACCOs (Savings and Credit Cooperative societies).
How is it all regulated- licenses/insurances/permits?
Licenses- All boda-boda riders are required to possess  driving licenses of class F/G. Motorbike riding is taught at local driving schools over a period of one month, after which one sits for an exam. One can also learn through a friend's motorbike and apply directly for the license.
Insurances- A motorbike has to be insured before it is used for public transport. The minimum cover costs between 30-50 USD. A comprehensive cover costs around 100 USD.
Permits- there are no permits required to ride a boda-boda if the license and insurance are in place.
How are the fares regulated?
There is no structured way of calculating and regulating the fare. The rider and customer approximate the fare by taking into account the distance, terrain, time, weather conditions, and the amount of luggage. Until the rider and customer are satisfied with existing price, they negotiate. Basically, pricing is more tied to a mutual agreement on what is reasonable (rather than a fixed tariff).
How is the traffic safety regulated?
Riders should be have their licenses and insurances at all times. Riders are expected to wear protective and reflective gears, which include helmet and reflector jackets for both rider and customer. They are not allowed to carry wide loads- more than 30 centimeters off the sides. The regulation requires one passenger per bike.
What are most trips for?
Most trips are for people and their small luggage. Delivery companies are now coming up even in small towns, using motorbikes to deliver goods to clients, such as those engaged in online sales.
How much can one earn?
An active rider can earn at least USD 10 per day. On good days, earnings may triple. This happens during market days when there are more people travelling. Generally, in urban areas, riders have strategic locations where they operate from, such as close to residential areas, offices, malls etc. At these places, customers take boda-bodas to their destinations. In rural areas, customers call the riders to pick them from their homes.
Are there female boda-boda riders?
There are no female riders in Kenya. Women who own motorbikes do not ride them as taxis. They ride themselves to their destinations only.
How are the taxi drivers organized?
Riders within same area often form their own SACCOs. These motorcycle SACCOs offer their members incentives to save, by setting up savings groups. Some also offer loans. Many act as communities that provide several kinds of social and professional support to their members.
References
Babinard, Julie and Roberts, Peter (2006). Maternal and Child Mortality Development Goals: What Can the Transport Sector Do?. Transport Papers TP-2. World Bank, Washington, DC.
Ntshinga, W., Eloff, J., Hillebrand, C., Burger, D., Zöller, K., Nkaelang, B., & Eerden, T. (2012). A mobile solution to self-regulate the Boda-Boda industry in emerging economies, (June 2014).
Starkey, P. (2016). The benefits and challenges of increasing motorcycle use for rural access. International Conference on Transportation and Road Research, Mombasa, 15-17 March 2016, 1–17.
Starkey, P., & Hine, J. (2014). Poverty and sustainable transport: How transport affects poor people with policy implications for poverty reduction, (October).
Turyahikayo, W., & Ayesigye, J. (2017). Determinants of demand for none agricultural rural employment ( NARE ) in Uganda : The case of the influx of motor cyclists ( bodaboda ) in Ntungamo District, 5(4), 547–555.
Unescap. (2005). Transport and Communications Bulletin for Asia and the Pacific No. 74 Raod Safety. Secretary, (74), 1–96.