by Nardos Mesresha, Yoseph Cherinet, Jean Marc Pace, Girma Senbeta
Conflict in Northern Ethiopia
The war that erupted in Northern Ethiopia (November 2020 – ongoing) left millions displaced and in need of humanitarian and recovery assistance. The worst of the conflict unfolded during the main cropping season, resulting in millions of hectares of arable land across Northern Ethiopia uncultivated (a region that was already struggling with food security). The Amhara Bureau of Agriculture has estimated that the region has lost more than 15 million quintals of production in the last year, not to mention the loss of livestock through looting and needless killing. Looting and destruction also extended to other assets such as tools, agricultural training centres and irrigation infrastructure, which lengthens the road to recovery.
Gubalafto Woreda, the Woreda in which the Green Future Farming (GFF) Project is taking place, was drastically affected, being occupied for over 4 months until mid-December 2021. During the occupation period, we lost almost all contact with our project staff in the area – telecommunications were rarely available, and many went into hiding with their families until the danger subsided. Thankfully all our project staff have come through this difficult period safe and in good health and good spirit.
A Recovery Program for Regenerative Resilience
In light of the overall catastrophe, The GFF team, through MetaMeta, and supported by IKEA Foundation, took the initiative to contribute to the recovery of affected areas through different agriculture, livestock, and psycho-social support interventions in the four project watersheds in Gubalafto Woreda. In total, around 1500 households affected by the conflict are being targeted in this program (5000-7000 population). A number of interventions were selected based on an initial needs assessment conducted by field staff in January 2022, as soon as the project area became accessible again. These interventions are complemented by close follow up and monitoring. Parallel to these recovery activities, regular project activities are resuming in the area with strong linkages being made between beneficiaries and with the aim of steering development towards a transition to more regenerative agriculture and vibrant circular rural economies.
Beyond the immediate assistance this recovery program is providing to the area, it also offers an opportunity to expand the learning journey that the GFF represents. Lessons are certainly being learnt about how to respond to such devastating situations – offering short-term assistance but continuing to steer development in a regenerative and sustainable direction.
This blog series will share some of these lessons and invite responses and feedback from our readers. This first blog will look at our Psycho-social Support Program.
Our Psycho-social Support Program
The psychological and emotional well-being of the community in the project implementation areas is the bedrock, or foundation upon which all development activities are built. As this community was enveloped in conflict and uncertainty for more than 6 months and experienced various exploitations, post-conflict traumas, and lost assets, restoring the community's wellbeing and creating a positive outlook towards self and future is a crucial first step on the road to recovery.
Training was delivered that focused on life skills and personal development, psycho-social support, psychological firs- aid, grief, resilience, self-esteem and self-awareness, stigma and discrimination, teamwork, communication, conflict management, peer pressure, and stress management skills – a psycho-social toolkit that will serve the beneficeries well in these trying times and well into the future.
"The mental health and psycho–social needs of people caught up in conflict must be a part of the growing attention given to mental health around the world. When not addressed, these needs have a far-reaching and long-term impact on people, their families, their communities, and on the whole society."
-Robert Mardini, ICRC General Director
The training is also linked with livelihood improvement activities, most trainees selected are already beneficiaries of the other GFF project interventions and the recovery program. With the aim of harnessing this community support and directing the renewed energy towards productive and beneficial activities to get the community back on track. Besides the major coping topics, the training also covered topics like effective communication and working in a group which should give a boost to collaboration and productivity.
Beyond training, financial support is being provided for additional professional counsellors to be stationed at Weldiya Hospital since they only have a limited capacity to do so. This makes mental health services available to more people while creating space for at least one more counsellor to earn a living supporting their peers.
How is this being done?
Offering a psycho-social support program is quite far removed from typical project activities so a good amount of time was spent in deciding how to go about it in a way that ensures the intervention is culturally- and gender-sensitive with an ethos of 'do no harm'. Being part of a wider recovery program, it was ensured that all planned activities are in line with international crisis and emergency agreements that mental health and psycho-social support (MHPSS) must be an integral part of humanitarian responses. Initially, working with motivational speakers and organizing a mass event to address the public was considered, as this is how things are typically done in rural Ethiopia.  However, a more intimate and step-by-step approach to address the psycho-social problems of the community was eventually selected as the right approach.
Time was invested in selecting the appropriate approach, trainees, and trainers, preparing localized and suitable training materials, and recruiting professionals that went through the same kind of conditions. This was seen as necessary to successfully execute the psycho-social support skills training in a relatable manner with long-lasting impact. Instrumental in all of this is the partnership between the project and the Psychology Department of Weldiya University which has professionals living in the community who are familiar with the local culture and are intimately connected with their hardship. Weldiya University itself was extensively looted and damaged during the occupation but has since taken long strides towards restoring the campus and resuming educational activities – a truly inspiring effort.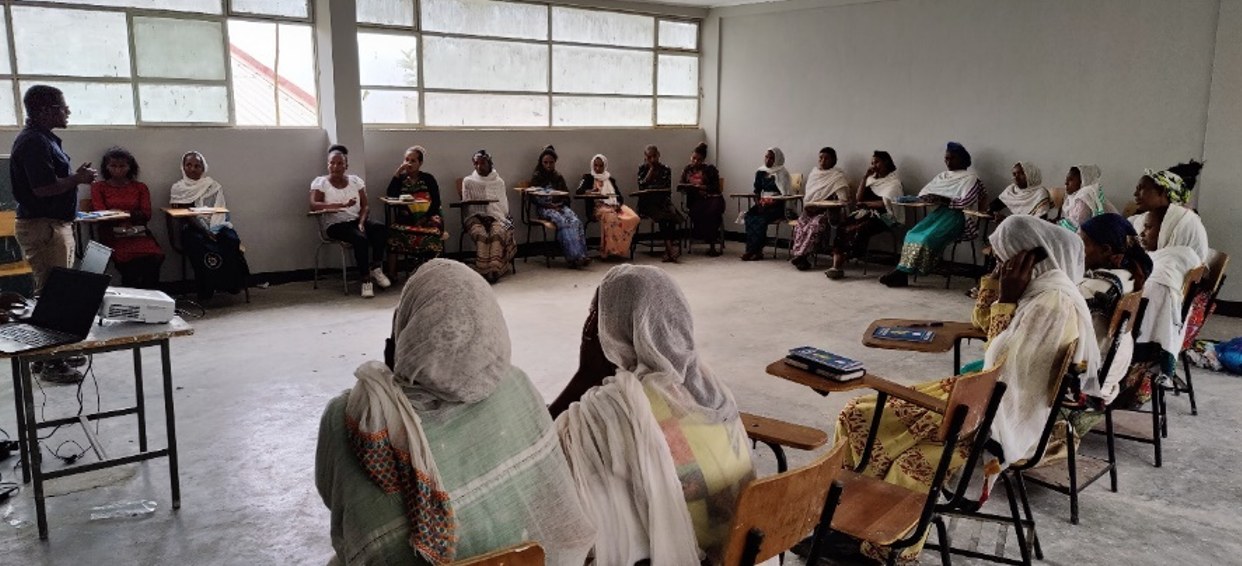 The approach settled upon was to form trained and trusted healing peer groups selected from the community itself – these peer groups will in turn offer psycho-social support to their wider community. It was important to create a safe space to discuss their traumatic post-conflict experiences, vent out their stresses and frustrations, and get back to their previous social life and work situations.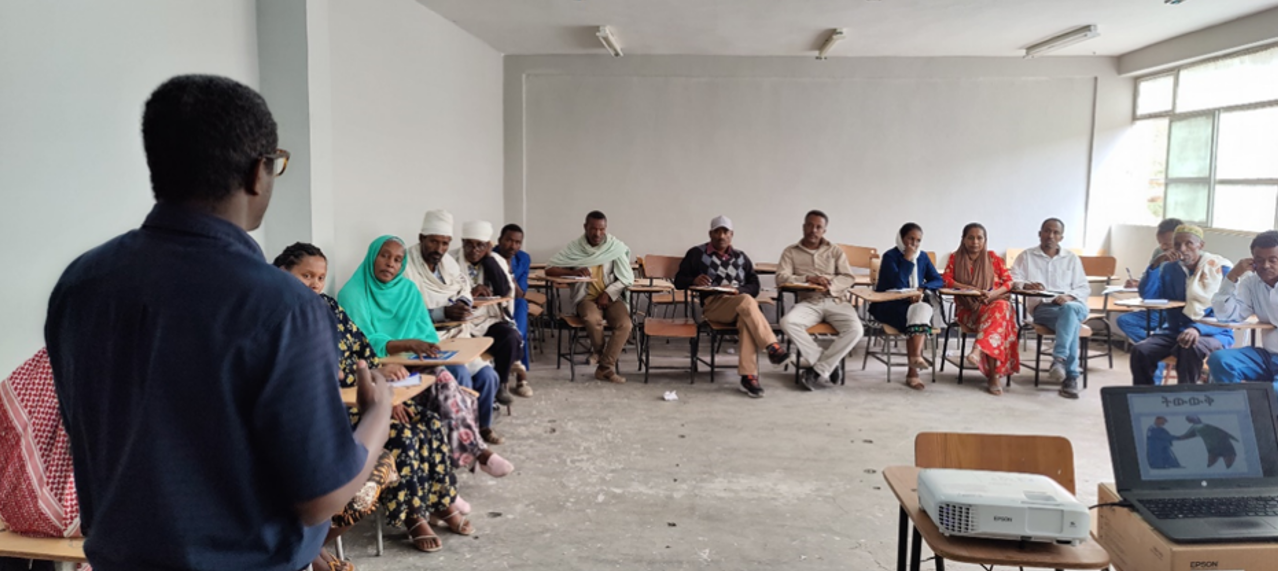 In total, 75 community members were trained, including religious and community leaders, youth, women, experts from agriculture, youth and culture, women and children affairs, and the disaster prevention commission. Trainees were organized into three separate working groups that include the youth group (6 women, 19 men), the women group (25 women), and the community leadership (religious leaders and experts, 6 women, 19 men).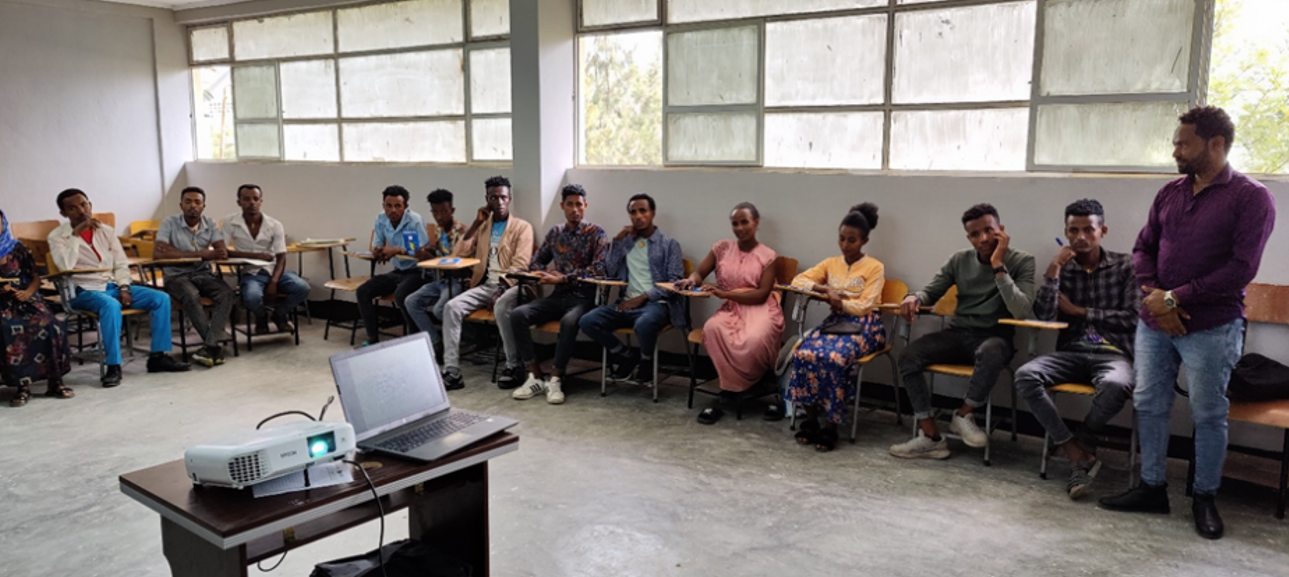 Bringing  things to the surface
Once the trainees acclimatized to the environment and recognized the space created as a safe one, many heart-breaking and unimaginable stories emerged. Mutual support between the trainees was delicately facilitated by the trainers, offering support and encouragement. In summary, some of the most pertinent impacts of the conflict on this community (and others) that emerged were the flowing:
Forcibly displaced: Fearing for their lives, many people fled from their homes and possessions behind in search of a safer place, it is yet to be seen when and if they will return.
Physical torture: Some people were captured during the conflict and subjected to physical torture leaving both physical and mental scars.
Hunger and Health Issues: During the occupation, farming operations were scarcely performed to avoid the risks of exposure. This led to a drastic drop in food security and availability. It was also risky or impossible to access health care during the conflict. Evennow, many health stations are operating at limited capacity due to the looting and increased demand for their services.
Economic Destitution: It was all but impossible to continue economic activities during the occupation and even since then, the opportunities for rural livelihoods are few a far between. Pre-existing issues are now exacerbated.
Psychological Distress: The conflict has left behind it a trail of collective traumas, more acute for some who directly experienced violence and/or loss.
Property Damage and Theft: Whether looted, burnt or destroyed, many assets such as homes, livestock, seed stores were lost during the conflict – for many, regaining these assets seems like an unsurmountable obstacle.
Lack of services: A communication blackout was imposed on the area during the conflict to prevent militant communications but effectively isolated the local population. Electricity and water supply were also intermittently unavailable.
Loss: Many lost their lives in the fighting, young men in particular, leaving behind grieving relatives who need to balance their grief with the will to rebuild what they can.
Loss of hope: For some, the conflict represented an end to their dreams and ambitions. When presented with a situation of such intense fear, loss, and economic disparity it becomes difficult to envision a brighter future worth working towards.
Women and Children: Women and children suffered uniquely throughout, with many women reporting rapes, unplanned pregnancies (whether as a result of rape or lack of access to contraception) – many infections and diseases were also spread. Children were left without access to schooling, vaccines, and balanced nutrition – many are also suffering psychological issues as a direct result of being exposed to things no child should have to go through.
While it is impossible for a Project such as the GFF to solve these issues for the project beneficeries, offering them a safe space where they could openly share their traumas and worries is already a step in the right direction. Combined with the psycho-social support training they have received, the hope is that they will act as points of reference to their peers, lending an ear and, constructive advice and support where they can.
The Way Forward
The next steps will unfold in three ways:
Psycho-social First-Aid: All trained individuals are equipped with tools and knowledge to provide psychological first-aid to peers in their respective workplaces, villages, and communities. They will provide psychological support when they face someone who needs it.
Support Groups: 12 youth and women volunteers will create and prepare events like coffee ceremonies and other gatherings for smaller groups to discuss how to cope with traumas and stressors, and focus on the positive and productive aspects of life after war. During these gatherings, the volunteers will identify individuals who need professional counseling and refer them to the clinical counselors assigned to provide the service. The group will also address the wider community through edutainment activities and flyers through big gatherings during open market days.
Professional Counselling: As part of the psycho-social support the project is making biweekly clinical counseling services available for people with post-traumatic stress disorder and other conditions that require individual attention. There are two clinical counselors (a male and a female) assigned by Weldiya University who are following up on the referrals from the peer group and provide counseling services at the Weldiya Hospital. The hospital was selected as the venue for this, to reduce the stigma associated with seeking mental or psychological care – there are many other reasons to visit a hospital, offering ample alternative explanations for the visit.
Initial Outcomes:
Testimonies from community representatives so far show that the training has helped in building their self-confidence and working in a team to heal from the war's impacts. Moreover, the representatives of religious leaders from both Muslim and Christian communities said that the skills gained from the training help them to identify the war's impacts on the individual, family, and community levels and how to handle the challenges, especially psychological issues.
It is still early days, but we are already happy to see the spark returning to people's eyes and are filled with hope that this, and the other interventions in the GFF Recovery Program will help people regain hope and positive outlook towards a resilient, regenerative, and Green Future in Farming.