By Jan Nederstigt
In arid zones of Africa, smallholder farmers increasingly face problems with cultivation of rainfed staple crops. Irregular rainfall through climate change, desertification and soil degradation cause low yields which lead to food insecurity. PRACTICA foundation (www.practica.org) started an innovation trajectory to support smallholder farmers to mitigate the risks associated with climate change. Rather than using supplementary irrigation for rainfed crops, Zaï or pothole farming was found to be a cost-effective technique to reduce the impact of dry spells. However, mechanization of Zaï is needed to make the technique applicable at large scale.
Zaï pothole farming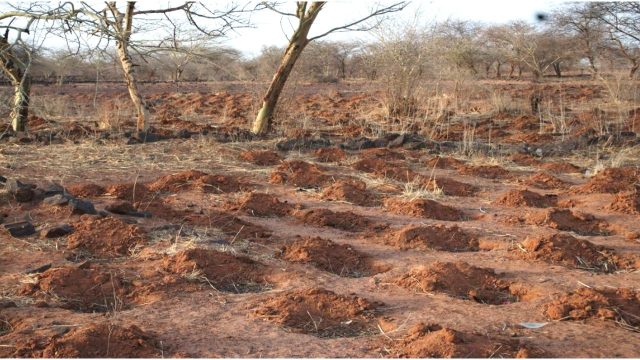 The Zaï technique is an ancient indigenous technique from Burkina Faso. It involves making plantholes for a (group of) grain plant(s), depositing the excavated soil down-stream of the hole to guide runoff rainwater into the hole. The plantholes are filled with organic material like compost and manure to store water in the the soil and to create a micro climate for the plant. This method has proven to be very effective for bridging prolonged dry spells between rainfall events and thus saving crops which would otherwise have perished. Zaï has the combined advantage that it is effective from the first cropping season and simultaneously restores degraded soils in the long run by adding organic material to the soil. This ancient technique was rediscovered in the 1980's and was actively promoted in the Sahel by development agencies. And although the advantages of Zaï are evident and well-documented, it is currently only being practiced at small scale.
Potential for farmers
A scoping study conducted by PRACTICA in Mauretania, Burkina Faso and Zambia (Oct '21) showed that as the main reason for not practicing Zaï, farmers indicate that manually digging the required 15.000 holes per hectare is too labour-intensive. Especially as the digging needs to be done prior to the rainy season in a dry and compacted soil.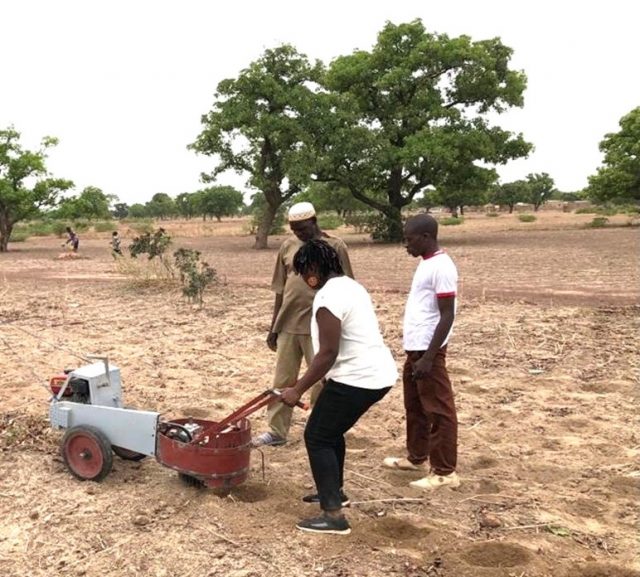 With the evident impact on food security and soil regeneration, PRACTICA developed a prototype of a mechanized planthole drill according to the Zaï specification – the Zainer. The current prototype is a soil drill powered by a small petrol engine that can be operated by one person to drill one planthole every 4 seconds, allowing to prepare a 1ha field in 2 to 3 days. First field performance tests and economic analyses show a positive farmer-level business case for the adaptation of mechanized Zaï as primary climate-adaptation measure for farming of rainfed staple crops. Depending on the locality, the harvest could be doubled or tripled when using the Zainer and Zaï planting.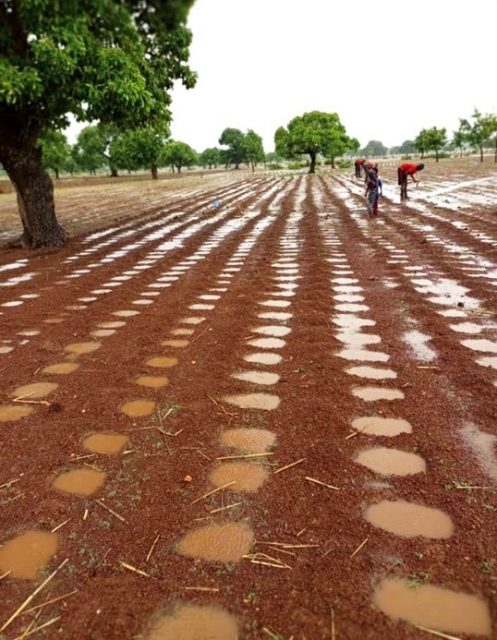 Next steps
Based on our scoping study, viable prototype and positive results from the small scale field pilot, we want to make the next step towards pilot market introduction of the Zainer. As such, we want to test different business cases (including (co-)ownership, machine rental and service delivery models) and look at options for local production, distribution and sales. We Simultaneously we want to study the effects on the yield and the impact on family income and food security for the smallholder farmer.
To further reduce the environmental impact, we have started the development of a solar powered Zainer. Although production costs will be higher, the lower operational costs for the farmer will benefit the farmer level business case.
Within the next step of pilot market introduction, we want to include the development of a prototype of the solar powered Zainer for field testing.
As the use of Zaï involves adding organic material to the soil, it contributes to soil regeneration. In the arid zones of Africa, this is an effective measure for fighting desertification. For the pilot market introduction we want to set up research to monitor the long-term soil regeneration and the potential for carbon sequestration.
Zainer prototype specifications
Partnership
For these next steps we are looking for partners working with smallholder farmers on agricultural innovation and climate adaptation in arid zones in Africa to jointly start the pilot market introduction in a high-potential area. Positive results of this market pilot should lead to large scale (semi-) commercial introduction of the Zainer in this specific context.
At the same time, we are looking for funding opportunities to cover the costs of these next steps.
Practica Foundation
PRACTICA is a Dutch based non-profit organization driving rural development with innovation. Within the themes of rural water supply, irrigation, groundwater development, and sanitation, innovation opportunities are translated into viable products and services that are implemented through the local private sector or partner organizations. Read more about the work and impact of PRACTICA foundation on www.practica.org.
For more information on the Zainer or for partnership opportunities, please contact Jan Nederstigt – jan.nederstigt@practica.org.