By Vijay Kumar (PRADAN)
Shikaripara is one of the poorest blocks of the Santhal Pargana region of Jharkhand, India, where most farmers practice the so-called "Conventional Agriculture," which includes synthetic fertilizers and pesticides. Enough evidence has been building on the harmful effects of such chemical input-based conventional farming, making poor farmers more vulnerable regarding health, economy, and ecology.
The alternative to harmful conventional farming is community-led, climate-resilient approaches and techniques for the adoption of a sustainable, regenerative farming system, which consists of many principles (No/reduced tillage, intercropping, mixed cropping, cover cropping, chemical-free practices, for example), as well as the use of biological inputs (bio-fertilizers, bio-pesticides, and manures) to ensure growth and productivity in a condition where soil health is not optimum.
Regenerative agriculture is not all about plant health and plant protection. Instead, it believes that the soil is well equipped to feed the plant, and we need to focus on regenerating the soil biology to enable it to do its work. So soil health plays an important role here, and compost can build the soil by increasing soil organic matter, porosity, water retention capacity, microbial count, etc.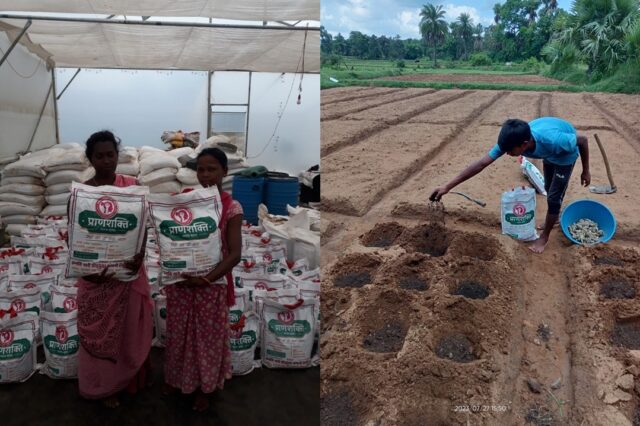 In, Shikaripara, different techniques of composting and soil inoculation have been tried, such as Shivansh compost (layering of dry matter, green matter, and cow dung), vermin compost, improved FYM (mixing of beneficial microbes with farm yard manure), and more. After several on-field experimentations with the community, Super Compost was proposed, where the base material is vermin compost. It is charged with Jeevamrit and various beneficial microbes like Trichoderma, Pseudomonas, mycorrhiza, and NPK consortia. Super Compost not only improves soil organic matter but also adds beneficial microbes in the soil, which establishes symbiotic relationships with the roots of plants resulting in better plant growth (through mobilization of several vital nutrients) and a robust immune system.
Production of Super Compost at the Bio Resource Center (BRC)
Sundarpalan is a small village in Shikaripara Block, where Shivani Kisku, a 35-year-old woman, transformed her village through regenerative agriculture. This idea established a BRC to produce and supply super compost and other bio-inputs. The initial phase was not easy as there were many barriers like less conviction around regenerative agriculture, unavailability of raw materials, laborious and time-consuming process, minimal mechanization. Still, with training, exposure, and capacity-building programs, many things started to sort out gradually. The BRC of Sundarpalan can produce up to 12 tons of super compost per month.
Impacts Till Now :
The total turnover of the BRC through super compost is Rs. 75000
5 tons of super compost has already been produced and marketed this summer, and BRC has targeted to produce and market 50 tons in this Kharif.
Several demonstration plots have been established where farmers confidently use this compost in their fields as an alternative to conventional chemical fertilizer.
More than one lakh chemical-free quality seedlings have been produced using super compost.
Several on-field and scientific evidence have been built around the product's efficacy.