Posted by Letty Fajardo and Frank van Steenbergen
December 30, 2015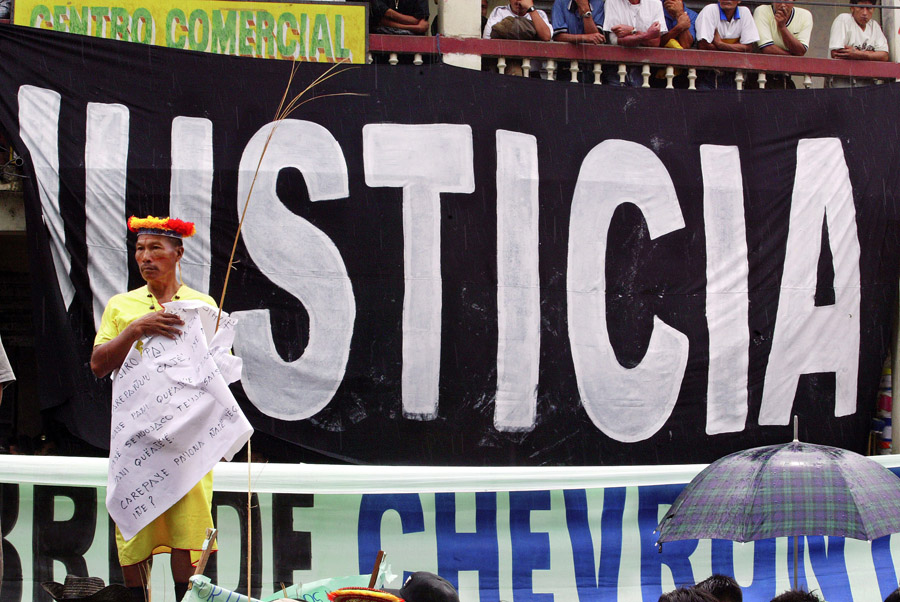 As the New Year starts it is good to reflect on whose side time is on. We may fear it is on the side of the rich and powerful. For disadvantaged parties' patience, having a longer term plan and seeing thing out is more difficult. Here is an example.
It concerns the environmental devastation caused by Texaco-Chevron. In the 1960s Texaco developed oil fields in the pristine Amazon region of Ecuador. Over a period of 26 years, it used the crudest of extractive methods, even where better technology was available and used by Texaco elsewhere. It turned a paradise into a wasteland. Once the oil fields were no longer economically viable, 450,000 ha of land was spoiled and 900 oil waste pits were dug, scattered over the area. 30 times more oil and waste material was discharged in the water bodies over two decades, than the Exxon-Valdez disaster. It classifies as one of the worst oil disaster ever and was entirely human-made and done with full conscience. Irretrievable damage and for what purpose?
The Amazon region in Ecuador was pristine but inhabited too. Around the Texaco concession some 30,000 people reside whose ancient land was now spoiled by oil waste. There used to be seven indigenous Indian groups in the Amazon, but two of these have are already extinct due to this contamination. All indigeneous groups are different but all have a life's philosophy in which human, nature and life is a sacred communion. They consider that the land, water, soil and air have spirits and they respect them. "And those spirits give humans soul and energy", they explain. "Wealth for us is not about money. For us, wealth is biodiversity, the wealth of nature. It cannot be commodified or valued".  The impact of the pollution could not be larger. The destruction of the environment of their territory means "a terrible harm direct to their soul, and their ecological life.  They believe it is a lack of respect by the company towards indigenous people.  Texaco-Chevron "destroyed the culture, wealth and worldview of spirituality" of indigenous people.
Then a remarkable thing happened. With the consent of all parties the case was brought to court in Ecuador. Few had predicted this, but justice prevailed: Texaco and in fact its new owners Chevron were held liable and ordered to pay up and repair at a cost of 9.5 Billion USD – for negligence and damages done.  This was in 1993. 
But then the endless game started. Chevron held on, using its financial reserves not to be held answerable to the verdict and the moral imperatives. Instead, it withdrew all its assets from Ecuador so that they could not be confiscated, paying the government of Ecuador to do a cosmetic 'sweeping under the carpet' clean-ups, spending enormous amounts of money on private investigations and public relations (including commissioning a kiss and tell book) to taint its adversaries, triggering long forgotten legal procedures to cripple those fighting for justice.  As if morality is on the side of the rich. 
In the meantime, some local organizations have done tremendous work trying to help – drinking water systems, new livelihoods– but the area remains until today as wasted as it has been for decades. There have been a few victories – Chevron now has to pay up for the damage to Ecuador Amazon. The UDAPT has recently been encouraged by a very significant  decision by the Supreme Court of Canada that it can sue Chevron in the Canadian courts to enforce the $9.5 billion USD verdict of the Ecuadorian Court in 2011. It signifies a major breakthrough in its epic quest for justice sustained over the last twenty-two years. But not a single financial transfer has been made. It is the waiting game that plays in the hands of those who can afford to wait and to not care. 
So time, whose side are you on?  Let you not be bought by those who can afford to waste your time. We pray that this year you will be on the side of those who bear no guilt and who need your help. Give them longer breaths, give them resilience and let 2016 be a year of priorities.

{jcomments on}