Vermiculture: Turkey's new booming agro-business 
Posted by Sukru Esin
April 16, 2019

A culture of dynamism and a entrepreneurship is enabling a variety of initiatives in Turkey. The agriculture sector in particular is very dynamic and open to new approaches. Vermicompost is a good example, that could be focused on more and replicated in different regions.
In Turkey, the first vermicompost(solid and liquid fertilizer) factory started in 2005. After this factory, many people started-up their own vermicompost factories. Most of them started their production line in basements, backyards, barns, terraces, etc. Finding the waste is not difficult, you don't need high tech tools in the beginning, investment cost is small and enough information is available on the internet. Besides, vermicompost is easy to sell. You either you have to sell worms to other people or expand your production facility. This is actually one of the greatest benefits, which has helped spread this business nationwide over a very short period of time.
Often, the big challenge to development agencies, ngos and researchers is disseminating and upscaling good practices. Normally when international development experts are conducting a project in specific area, they focus one region and try to bring benefits or overcome the challenges there. But with vermicompost production, growth is happening automatically, across regions. For instance, one entrepreneur bought 10,000 worms and started feeding them waste. After 3 months population became 20,000. Every 3 months, the population will double. At the end of year the entrepreneur will have 160,000 worms and population will keep growing every single day.
Thanks to the internet and social media, young people can easily sell the worms and fertilizers.
There is already enough researches on benefits of using vermicompost on different crops and enhancing soil health. So, the book is closed on whether its good for soil or not.
Approximately 4000 amateur and professional people are in this sector in Turkey, working with around 150 million worms currently. Last year they produced around 30,000 tonnes of fertilizer.
In Africa, fertilizer usage is very low and quite expensive. Fertilizer is often not easy to find, and even though African leaders have made many promises to boost the agriculture sector—especially the fertilizer sector—they are still very far from their goal.
I believe that young people can change the game with vermiculture. You only need knowledge, agriculture waste (especially cow dung), space for worms, water…. and passion.
Let's change the game together!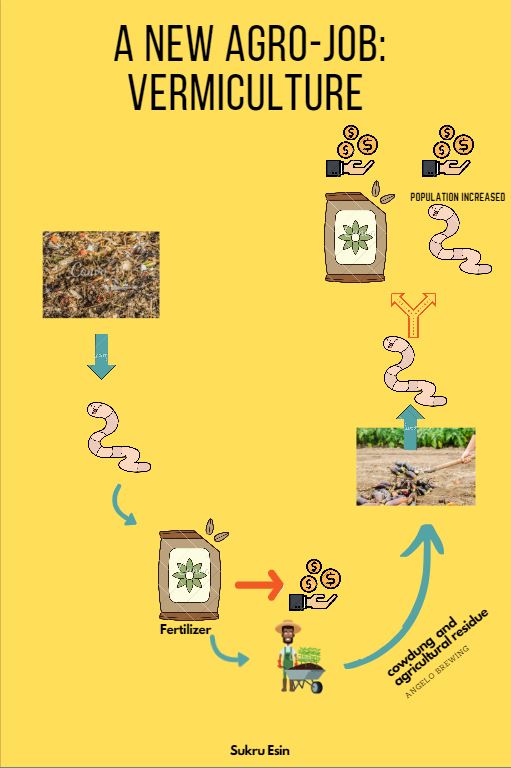 {jcomments on}