Yemen: Gender and Water in times of War  
Posted by Nada Al-Dahmashi
November 12, 2018
This is where  war has brought Yemen: there is no water in many houses, many supply networks are destroyed, and the  water supply and sanitation services are the worst they have ever been. So, many local and international organizations are providing water to people by tankers. , When you walk through Sana'a— the capital of Yemen and a city that has hosted a lot of IDPs (Internally Displaced People)–, you can find a water tank in each neighborhood. People are depending on this water, they're collecting it and storing for days.
All images © Nada Al-Dahmashi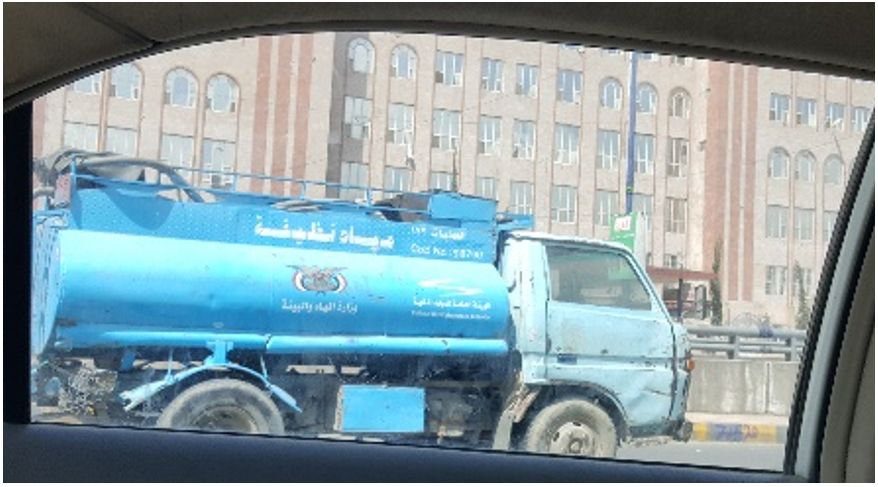 A water tanker driving through Sanaá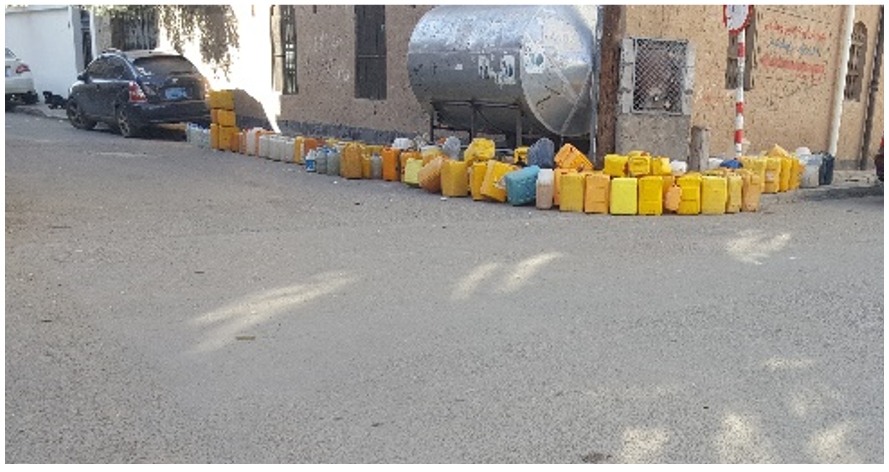 People queuing up jerry cans early in the morning where a water tanker is due to arrive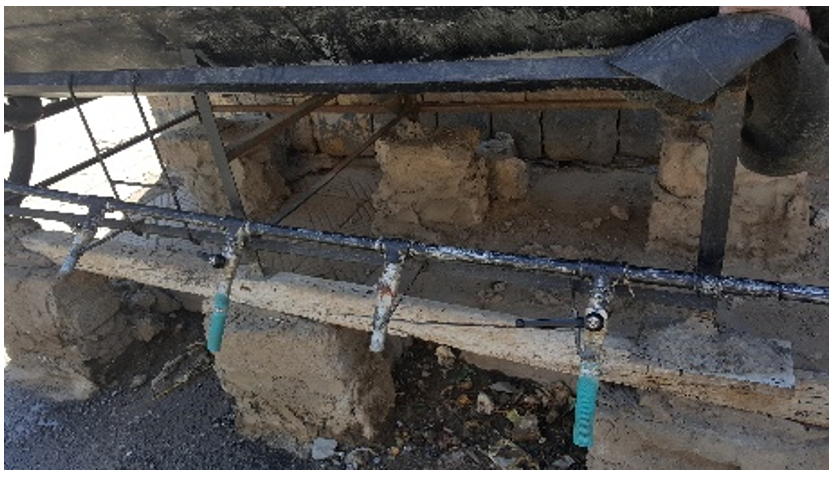 A faucet each for every person to fill up his/her containers
Gender inequality and the boundaries restricting Yemeni women and girls from fulfilling their potential, have long been known as both implicit and direct causes of food insecurity, malnutrition, and poverty in Yemen. Despite that, women are taking a responsibility to manage their houses and families. As water is the main element of life, women and men are suffering to get it or buy it in a country that suffers from acute water scarcity.
Yemeni society is dividing the tasks between women and men in a very unfair way. Women end up doing a lot of work inside and outside the house. For example, inside the house they are responsible for every single thing from cooking, looking after children, to cleaning.
Outside the house men also take advantage of the hard work of their wives, sisters or even mothers.
Women are helping in fetching water, and carrying out various agricultural tasks. In these times of war the situation is getting even worse, with women somehow assuming responsibility of fetching water even from long distances. Women and children are queuing up at water points for hours only to get a few liters of water.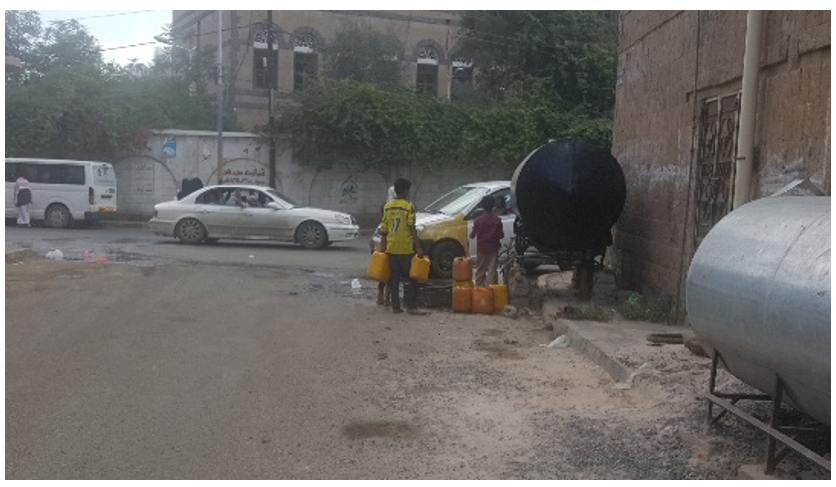 Children queuing up early one winter morning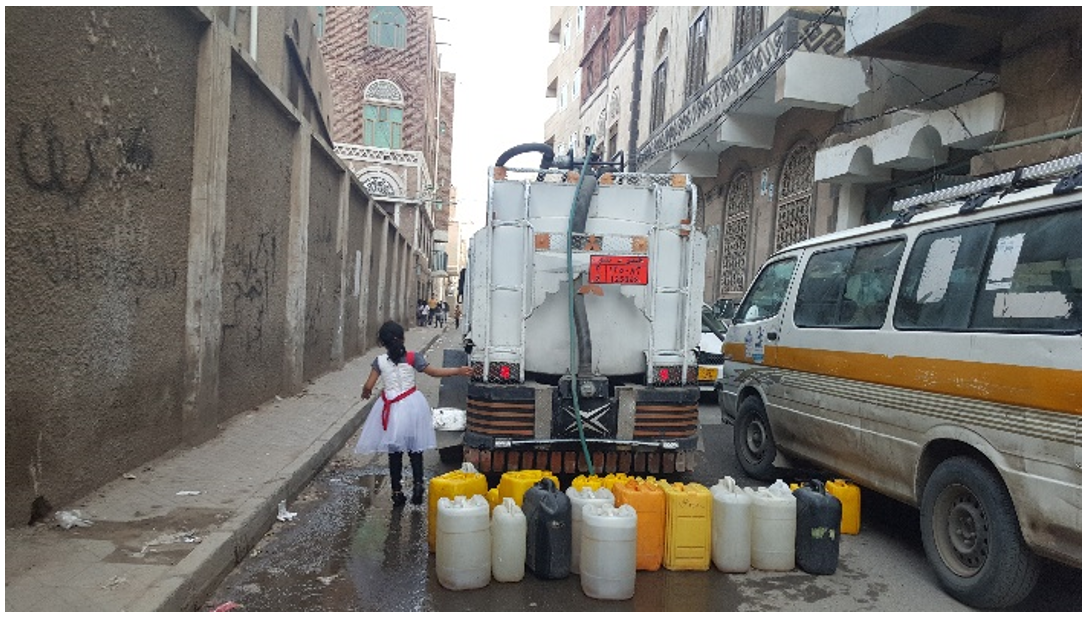 Children fetching water, above and below
Boys and girls are exposed to many accidents. They sometimes skip school to queue for water; and overload themselves with jerry cans so that they do not have to come back. This unfair situation is resulting in additional tasks falling upon women and children because Yemeni society believes that women were born only to work hard. As the war  carries on, some families are forced to choose between putting boys or girls through school, since due to the economic situation with  civil servants are unsalaried for many months. A lot of families choose to educate boys instead of girls, and girls are left to  work inside the house or collecting water from tankers.Such circumstances have brought a lot of miseries upon women, girls, and boys who are spending long hours in the hot weather. Some women are complaining about sexual harassment. Many don't send their daughters  as they are worried about their safety. In fact, there are some organizations who had admitted that women and children are exposed to many dangers sexually, and physically.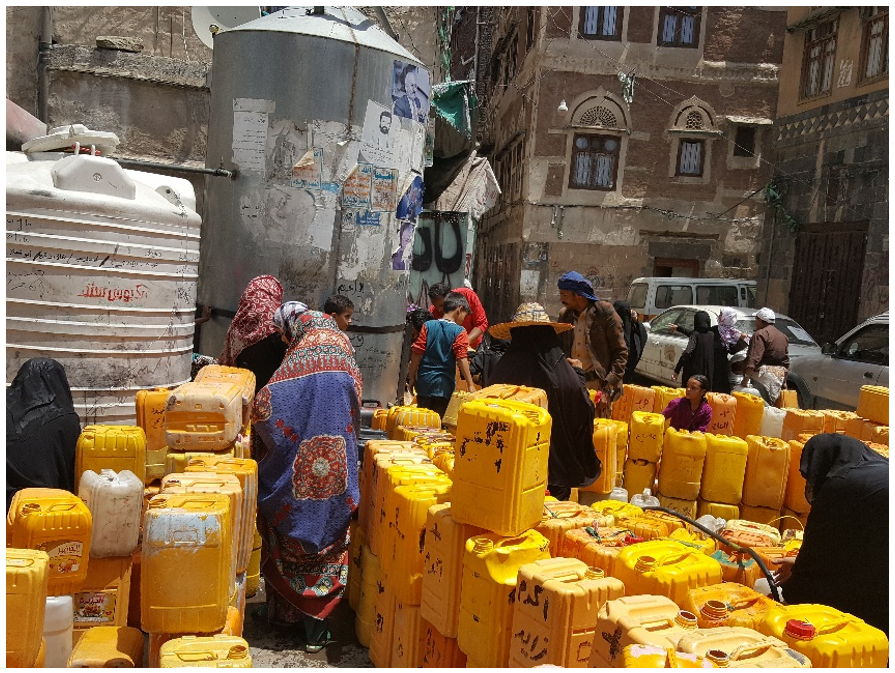 Women queued up at a water point filled by a tanker
{jcomments on}