(Experience and Seeds Sharing by Sindh Farmers to Balochistan Farmers)
By Allah Bakhsh, November 2018
A group of 15 Sindh farmers of Sindh Spate Irrigation Network from District Dadu, District Jamshoro, and District Tharparkar visited Balochistan Region to learn and share their practices, issues and marketing of crops in November 2016.
A general get together was held in a village guesthouse at Bhag Narri. Sindh Farmers informed Baluchistan's farmers that they are cultivating Sorghum, Chickpeas and Guar bean as major crops and smaller crops including white kidney beans, musk melon and Tinda. The latter is consumed as vegetable and is organic in nature since it does not need spray and supplementary irrigation.
They narrated that the white kidney bean is cultivated mixed with Sorghum every year. Small crops are grown on availability of off-season moisture they get in the month of March. Tinda is sold in Hyderabad fresh vegetable market. Farmers from Sindh have brought some white kidney beans and musk melon both 2 kgs in weight.
After a group discussion, Sindh Farmers visited an animal breeder of "Bhag Narri Bull Specie"; they also visited the irrigation structures and canal network and standing crops. After spending a day with farmer in Balochistan Region, the Sindh Region Farmers travelled back to their native area in the evening.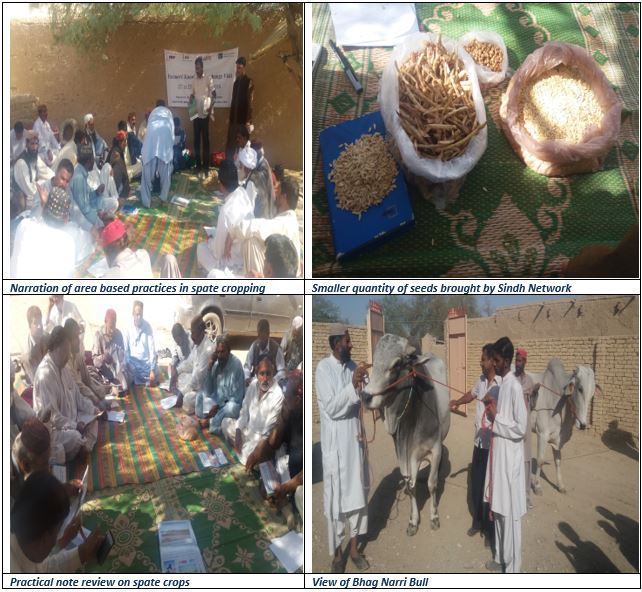 Lesson Learned: Balochistan Farmers showed interest in early ripening variety of chickpea seeds and white kidney bean cultivation in their area. However, the availability of seeds at the time cultivation remains an issue. The 2 kgs. Of seeds provided by Sind Farmers were not enough to be cared for until the right season of cultivation. Producing Tinda is already in practice in Balochistan, based on availability of moisture in the month of March, but this part of Balochistan is not getting winters flood.
Recommendation: Seed exchange in higher quantity would be best so that it can be stored and cultivated at the right time in different regions.
PAKISTAN FLOOD BASED LIVELIHOODS NETWORK PAKISTAN IN ASSOCIATION WITH STRENGTHENING PARTICIPATORY ORGANIZATION (SPO) NATIONAL CENTER ISLAMABAD