By Niaz Sial, Ashfaque Soomro and Frank van Steenbergen
July 13, 2020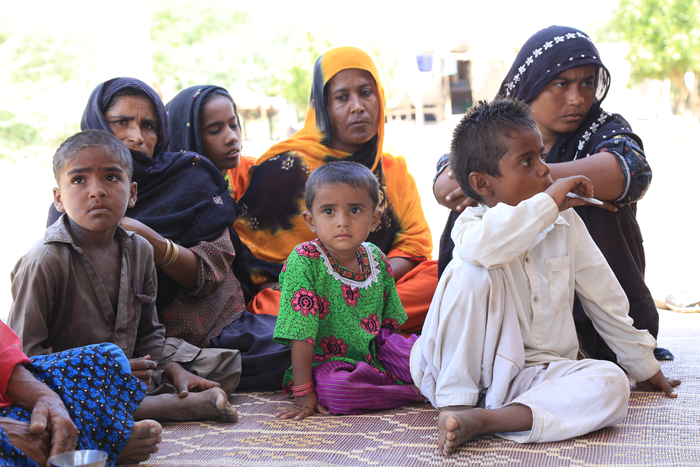 Postcard from Naj Gaj, Sindh, one of the areas in Pakistan dependent on short term floods, also called 'spates':
For others flood is the catastrophe, but for the spate farmers it is the only colossal opportunity available for subsistence livelihoods. There is a general shortage of water in this area. It comes in the shape of rain – which has been almost invisible in several years – and in the shape of 'spates', short-duration flash floods.  Rainfall in these spate areas is very low. On average it is less than 200 mm. There are only a few wells, but the groundwater appears to be overused. Due to the fragile agriculture base, Naj Gaj is one of many rural areas where life depends to a large extent on daily-earning, out-migration to places where construction sites offer temporary employment, selling edibles, and handicraft (embroidery) especially by women.
The impact of the lockdown on the economy of Naj Gaj has been enormous:
The majority of the non-agricultural labour force- around 73%– is employed in the informal (urban) economic sectors, which are affected the most in Pakistan due to lockdown and other COVID repercussions. In Naj Gaj the effect was double-hard
Those daily wage workers who worked on hotels, construction, or in other cities have returned to their homes due to closure of businesses.
Work is closed for the last two months and it has compelled them to borrow money from relatives and friends.
Whatever savings the poorest families have in shape of cash, livestock, or grain has been consumed.
Due to closure of local markets in villages and in towns, the middle men have exploited the situation and purchased the food grain, milk (from men), ropes and handicrafts items (form women) at low prices and sold essential food items on high prices. This situation has worsened the lives of the vulnerable and the poorest households.
The impact on women has been very significant:
Domestic workload has increased
They have to deal with household work and caring for children, as the schools have been closed.
Women's health has been badly affected – there is less access to health care
Domestic quarrels are increasing, leaving women vulnerable to tension and stress
Economic activities of women like: sewing and embroidery, have had to stop
Women are more worried in this situation of pandemic as it is them who children ask for food and pocket money
As women are relatively less educated, they have found it
Women-headed household were double-hit:
Communication and travel has become more difficult for them as women cannot, say, ride a bike to the market (which is now open for very short periods of time)  to buy food and other essential items
As mentioned earlier, demand for embroidery, applique work, and hand-sewn clothes has crashed. Such work was an important source of income for many women-headed households.
It is difficult for women to take sfamily members to Ehsaas Emergency Aid Cash Centers to receive cash
As explained earlier, women find it especially difficult to get themselves registered for Ehsaas Labour Program or other support mechanism created by the government or non-government organizations.
Finally, the lockdown has affected children very much:
Child malnutrition risks, particularly in families where manual labour was the key source of income, have increased
With schools closed for an extended period, there are hardly any learning opportunities for children and that has led to serious educational setbacks for many of them
With schools closed, child labour has increased. Most parents in typical rural farming settings think that 'it is better to earn, rather than sitting idle at home'
Also closed down are evening tuition classes, another reason why children are either staying at home or loitering on streets
Young girls are burdened more with household work and deal with infant care
Fear of pandemic creates emotional impacts on children, which could leave long lasting effects on them