By Pratik Ranjan
Meet Manoj Murmu, a resident of Beldiha village in the Godda district of Jharkhand, India. He shares his story of how together with his family, he has worked so hard to bring transformative change in the village since 2011. Back then, no SHG was functioning in that village. Despite owning agricultural land and digging well, Manoj found himself unable to do farming due to challenging circumstances. Their condition was so vulnerable that they didn't have sufficient food to eat twice a day. At that time, At that time, the Indian organization PRADAN (Professional Assistance for Development Action)  stepped into that village, and with thorough, insightful discussion and dialogue with the women, the village formed its first three Self Help Groups (SHGs), with Manoj's wife counted among their members.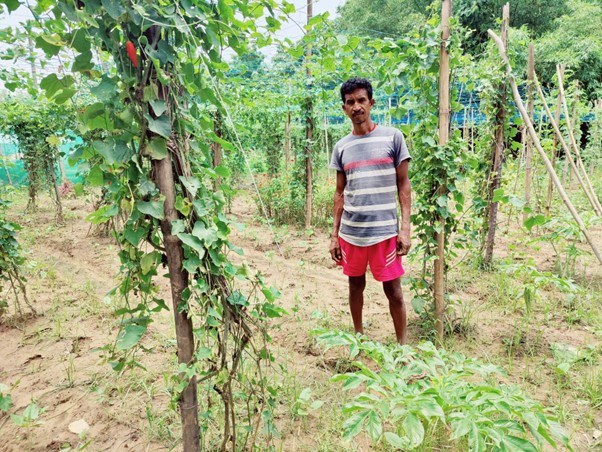 During that time, it was in one of the discussions with the PRADAN officials; it came out that the men of that village are generally migrating or working as daily wage laborers in another village, including Manoj. Despite his limited knowledge about SHGs, Manoj was invited to attend a meeting where he was asked if he'd be interested in contributing. His role was to oversee the financial affairs of the women's SHGs, ensuring savings were managed and records were maintained. Without hesitation, Manoj agreed. This commitment continued over the next several months, during which he dedicated time on weekends, every 15 days, to participate in these meetings.
It was in 2012 when the first significant project of the Bill & Melinda Gates Foundation came to that village. Under this project, Manoj received training on SHG formation and agricultural farming from PRADAN, which he would then impart to his fellow villagers. Those training sessions served as a catalyst and boosted his confidence a lot. He earned Rs. 25 per day for his work at that time. During the initial days, he was given a monthly target of forming three SHGs, which he proudly accomplished quickly. He formed over 50+ SHGs in the neighboring 7-8 villages through his efforts. In reflecting on this period, Manoj said, "I wasn't working for Rs. 25; I was working to learn." The BMGF project became a transformative path, allowing him to deepen his understanding of farming techniques and efficient practices.
Over the next four years, he received consistent monthly training from PRADAN. By 2016, his confidence had soared to new heights, enabling him to expertly determine the most suitable seed varieties for different types of land, prescribe optimal spacing, and identify the best inputs for various crops. He used to practice the same learned from training on his farms. During one such instance, he applied stacking methods for tomato cultivation, achieving remarkable results that set his produce apart in the market.
Fast forward to 2021, Manoj got an opportunity to attend a training program where the main agenda was to learn the Regenerative Agriculture Farming concept and its importance of it. After attending the training session, he came back and prepared for the first time Shivansh Khad and Jeevamrita, where he taught a few villagers how to make a fish tonic. Overcoming initial uncertainty, he cautiously applied these organic inputs in the fields and was rewarded with satisfying outcomes. This success was mirrored by other farmers who used the fish tonic and his prepared organic input.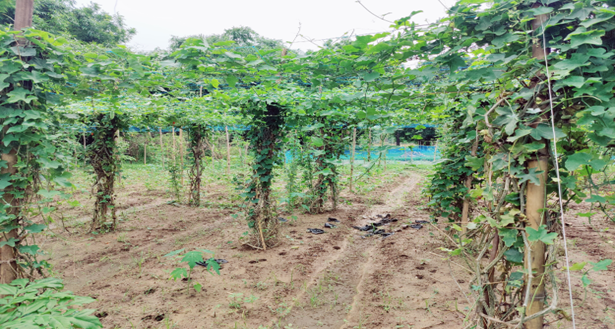 Manoj established a Nursery and Multi-Layer farm on his land in the same year. Initially, the nursery earned him Rs. 20,000 in its first cycle alone. The subsequent year saw him sell saplings worth Rs. 1.50 Lakhs, generating over Rs. 70,000 in revenue. Similarly, his Multi-Layer farming venture yielded impressive returns, with over Rs. 17,000 in earnings from tomatoes, green peas, and creepers in a single season.
Recently, Manoj started making Super Compost, selling two quintals in the last six months. He takes pride in the fact that customers now seek out his products, eliminating the need for him to market his BRC input products and nursery saplings actively. With a smile, he shares that even in meetings, he never brings back unsold BRC products.
Manoj's incredible journey, leading SHG formations, nurturing a thriving nursery, making BRC products, and supporting fellow villagers, served as a living example of determination and shared learning. His story illustrates the remarkable potential of steadfast resolve and the transformative impact of knowledge shared. Through his inspiring narrative, his influence extends far beyond the village, sparking inspiration in hearts near and far.