By Ashfaque Soomro
July 30, 2021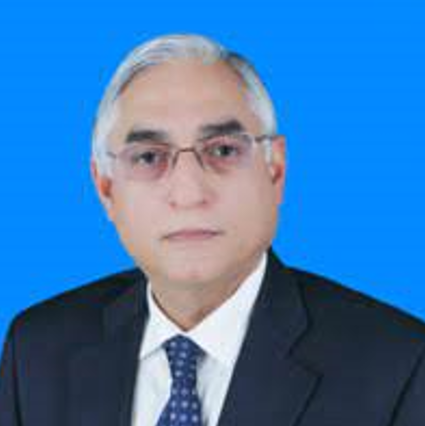 A celebrated water resource planning and development scholar, Dr. Shahid Ahmad has died of a cardiac problem on July 28, 2021 in Islamabad, Pakistan. This news has saddened a wider agriculture and water community in Pakistan and abroad. He was a courageous voice on water matters, who always tried to change the common perception about governance in Pakistan.
Dr. Shahid earned his PhD in agricultural engineering from Colorado State University USA in 1987. He served Pakistan Agricultural Research Council in various positions from the year 1976 to 2012, and played an instrumental role in designing and management of water resource development projects, mainly in fragile ecosystems in Pakistan. While being associated with PARC, he played a key role in establishing the Water Resources Research Institute at the National Agricultural Research Centre in Islamabad.
Until his retirement from the services, he worked as 'Member, Natural Resources' at Pakistan Agriculture Research Council, Islamabad from Sep 2008 – Feb 2013. After his retirement, he remained a consultant with a number of INGOs, local NGOs and bilateral donor institutions; and contributed to intellectual work on water and agriculture. Many political leaders and executives sought his participation in policy-level meetings regarding water issues, at the national and regional levels.
Dr. Shahid was one of the pioneers in identifying potential of spate irrigation in Pakistan and promoted it at policy level through rigorous research and pilot projects. Spate irrigation is indeed an orphan irrigation system, that found a steward in the shape of Dr Shahid Ahmad. Some others were his companions– including Frank van Steenbergen, Karim Nawaz, Dr Babar Waseem–, who will perhaps will not be able to forget Shahid's company and the way he explored things. I myself feel privileged to have worked with this genius and generous man on spate irrigation assignments and water resource management in stressed environments. I found him to be a man of unmatched skills, who had the utmost belief in people's supremacy in the management of water and agriculture.
There are significant achievements in the field of water resource planning and development, to the credit of Dr. Shahid. He formulated the draft water policy for Balochistan; and prepared water resource management plans for off-canal spate areas in Sindh, Balochistan and Punjab. He developed the Sindh Water Resource Investment Project for the Asian Development Bank, focusing on rain-fed areas of the province. He co-authored the book 'the Dry Side of the Indus,' among many others. He also served as agriculture specialist in ADB's TA on Punjab Basmati Rice Value Chain project. He also preparedthe  'Tharparkar Water Security Plan. He pioneered debates on water stress amid ever increasing population in Pakistan, governance issues, climate induced hydro-meteorological disasters and many such issues confronted to the water sector in Pakistan.  He wrote many background papers on water economy and water-climate nexus for the World Bank, ADB and others.
In his condolences remarks, Dr Frank van Steenbergen said that, 'Dr Shahid did a lot for spate (irrigation)! He believed in its importance and potential and understood its true nature. It was in his unconventional originality that he formed his opinions. He initiated very original research in DI Khan on improving spate irrigation, that is widely used a lot in different countries by many experts. He leaves behind a large water family that will dearly and deeply miss him'. Another water specialist, Dr. Bakhshal Lashari, said that 'it is a loss of not only the family of Dr. Shahid, but of entire water and agriculture family.' Usman Kazi, with a heavy heart, recalls the days he worked with him and saw him as a walking encyclopedia of water.  Karim Nawaz, another spate lover and professional, in his condolence message, said that 'Dr. Shahid's role in water management is now part of the history, that no one can neglect.'
Though he has physically left us, his work would continue benefiting water and agricultural professionals, students and academia for the decades to come. History will remember his contribution to and the passion for the equitable, ecological and efficient management of water resources.