Webinar: Towards better cities: with water, nature, and YOU: My learning moments during ten years of rubbing shoulders with stakeholders.

This webinar is part of the webinar series: 'IHE Delft Online Seminars for Alumni and Partners'. IHE Delft organizes the series in cooperation with TheWaterChannel. They are open to everyone.
Download the presentation of Dr. Assela Pathirana here
Description
The domain of water is complex. It is the territory of many wicked problems where often there is no clarity of a simple solutions or consensus on the definitions of the problem for that matter. In such a context that involves multiple stakeholders with often conflicting agendas, it is crucial for the water experts to learn the art of effectively engaging with diverse stakeholders. This is no longer the challenge of social-scientists, but that of all of us so-called water experts. Engineers, modellers, ecologists, economists, whoever is engaged in addressing water problems need to deal with an increasingly complex and multifaceted groups of stakeholders to be effective. 
One of the unique opportunities of working at IHE is the near impossibility of avoiding working with different type of stakeholders! During our missions to different countries in the world, we encounter experts of different fields, bureaucrats, community members, business people, the list goes on. My adventures of stakeholder engagement are just that – what I learned, I learned not from formal learning, but on the job. While these encounters challenged me to move off from my comfort zone – that mainly consisted of the things we do with computers like modelling – they ultimately helped me to learn. In this short talk I would share some of the informative and hopefully interesting encounters I was fortunate to participate in.   
About the Speaker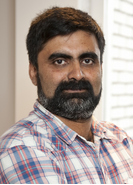 Assela Pathirana (1969) is a Civil Engineer and hydrologist originating from Sri Lanka. He holds Bachelor degree in Civil Engineering, B.Sc.Eng. (First Class Honours) (1995) from University of Peradeniya Sri Lanka and Masters (1998) and Doctoral (2001) degrees in Civil Engineering, specializing in hydrology and water resources engineering, from Tokyo University. Next he worked as a senior research fellow of the Environment and Sustainable Development programme of United Nations University and later as a research scientist of the International Centre for Water Hazard Risk Management (UNESCO-ICHARM), before joining IHE Delft in year 2006. Currently he works as Associate Professor of Integrated Urban Water Cycle Management in the department of Water Science and Engineering in the core group of Flood Resilience.