posted by Frank van Steenbergen
July 16, 2012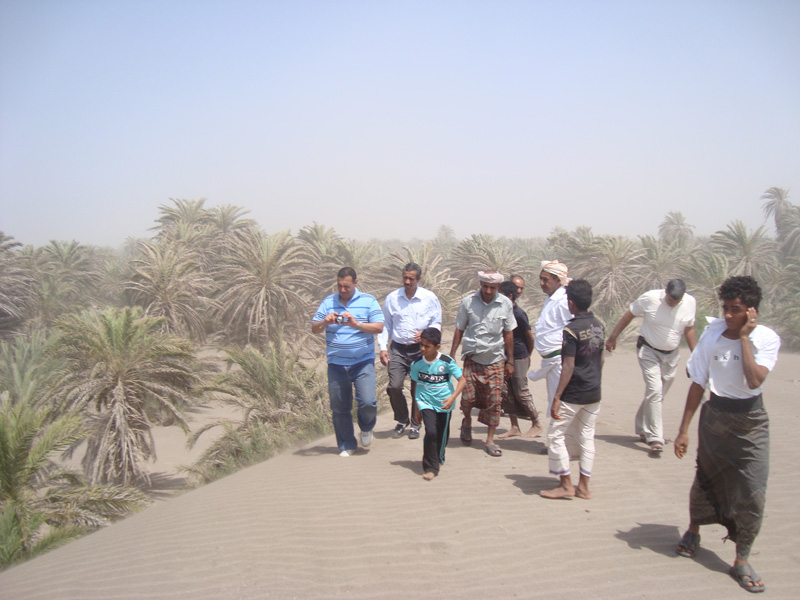 The dramatic story of Al Mujelis goes like this:
In the past, the area used to get occasional run away floods from the Wadi Zabid and Wadi Siham. These occasional floods recharged the groundwater. However, over the years the diversion structures in the upper reaches of the river were 'improved.' This meant that more water was controlled upstream and  floods no longer reached the area.  The water tables dropped and the natural soil moisture was lost. 
Al Mujelis farmers developed wells to provide additional irrigation to their date palm orchards – causing groundwater to drop even more. As there is very little money to be made in date palms, the orchards were abandoned. It was at this time that sand dunes started to fast take over the area. Al Mujelis has five months heavy winds in the year – and with the protection of the date orchards gone, the area soon turned into a desert.
There used to be 5000 people in Al Mujelis – now there are 1500. The human balance has moved as environmental refugee to nearby towns.
There is a case to reconsider the water distribution in wadis in the Tihama. The rules were formulated 600 years ago by the renowned scholar Al Jabarty, whose grave is still a place of pilgrimage. These traditional rules, in fact, allow the upstream water users to retain almost all of the water – but this was when there were few people, no concrete diversion structures, and groundwater recharge was natural.
A modern day Al Jabarty is urgently needed.
Do you have your own stories about water refugees? Please share them with TheWaterChannel.
{jcomments on}